AliExpress Summer Sale starts June 22, 2022. Deals and offers on clothing, phones, smart home devices, sports goods and more.
SUMMER SALE on AliExpress is grandiosely approaching. AliExpress offers huge discounts in the middle of the year. Shoppers can play games and get the benefits of online shopping!
PROMO CODES FOR THE SUMMER SALE ON ALIEXPRESS 2022
Please share this article with your friends and to your networks that will benefit from this information.
When is the Summer Sale on AliExpress?
The Big Summer Sale on AliExpress is slated to take place later this month and will include seasonally-relevant deals from both established and smaller brands.
AliExpress Summer Sale 2022
Warm-up time: 22rd June 00:00:00 -26th June 23:59:59 PST (5 days)
Sale Time: 27th June 00:00:00 – 1st July 23:59:59 PST(5 days)

During the warm-up, you add products to the cart, get coupons and play games.
Hot Sale Pages on AliExpress
AliExpress Summer Sale Homepage – Add items to cart, shop.
Official Picks – Top selected products
Delivery in 3-7 working days (Fast Delivery) – Available for countries: Poland, Netherlands, Belgium, Italy, Portugal, Czech Republic, Germany
Top brands – Collect coupons & add upcoming deals to cart
Frenzy Prices Are Coming Soon – Super Deals | Summer Sale
How to save even more on sales? Use the Spend & Save promotion.
AliExpress calls it the Big Summer Sale
Shopping Guide AliExpress Summer Sale 2022
How it works.
Up to 70% off.
US $3 off every $30 spent (max $9 off)
Exclusive for your first order. Use this coupon on select items during our sale.
Collect coupons for more savings. Find coupons that can be applied to your purchase. Visit Coupon Center.
Brands to know: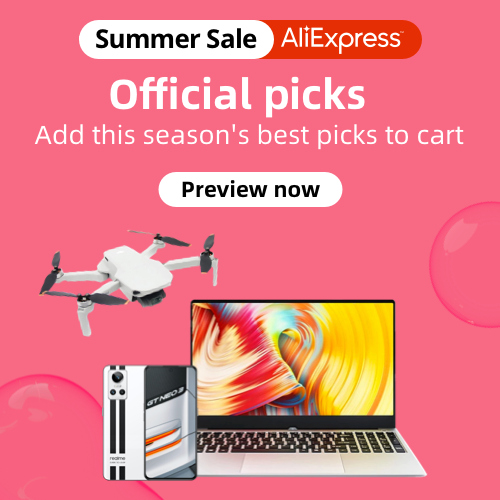 How long is AliExpress summer sale?
This year it started on June 22 and will end on July 1 23:59 PT
When can I view the sale items?
Sale items and prices will be revealed on Jun 22, 2022 12:00 AM PT
SUMMER SALE on AliExpress will create the newest and most affordable merchandise stream for shoppers, providing the most abundant and extreme discounts. Sellers will cut prices to a minimum for the last several months.
But not all items will participate in the AliExpress Summer Sale. See the AliExpress sales calendar for more promotions.
During the Summer Sale, all the advantages of overseas warehouses will be used.
During the SUMMER SALE period, AliExpress will create special pages for hot products, a section with big discounts, and a page for products of the summer season of the beauty industry. It is very profitable to buy seasonal items on sale. AliExpress will provide buyers with a convenient search on the site for products with deep discounts. Many items will ship for free.
AliExpress Summer Sale
In the US, the AliExpress Summer Sale will be promoted on social media in the top 100 communities. American celebrities will also advertise the sale.
AliExpress SUMMER SALE is a mid-year super promotion in the European region that takes advantage of the offline discount season in Spain and France.
The promotion corresponds to the peak of holiday travel in July. and mainly focuses on married couples aged 25-44. The Spanish and French markets will launch a powerful attack and create super highlights, such as discounts, cashback, free shipping, luxury travel lottery, etc.,
During the promotion period in the Western French market, the audience will be provided with a 10% cashback, coupons and codes of the AliExpress platform will be distributed, and a lottery will be held to draw a luxury travel prize for a trip to Rome and Paris in the amount of 20,000 euros.
SUMMER SALE, as the biggest discount event in the middle of the year, will be very popular in South Korea. For Korean buyers, there will be the best deals on seasonal products. South Korea is a key new country for AliExpress this year. A local warehouse will operate in South Korea, which will ensure quick delivery of goods to customers.
AliExpress Big Summer Sale 618 for the Middle East. The average temperature in the Middle East in July is 29-43°C. Local residents travel by car and are in dire need of various cooling equipment. During the SUMMER SALE, buyers from the Middle East will be offered products with significant discounts and fast delivery.
If you're looking to purchase some of your favorite products online, now is probably the best time. The BIG Summer Sale Event – Aliexpress.com Seasonal clearance, discount up to 70%
Please share this AliExpress Summer Sale page with your friends.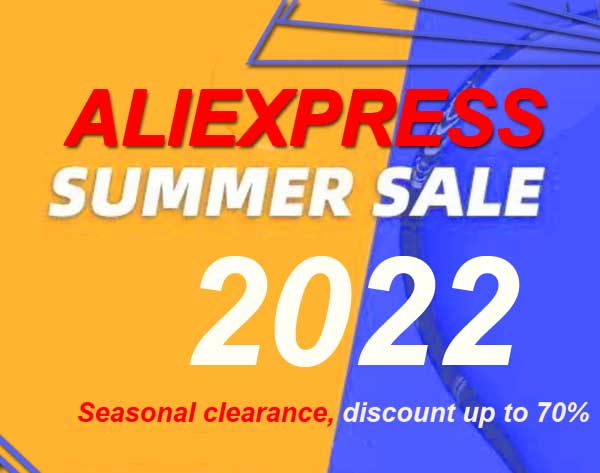 The Big Summer Sale on AliExpress offers a lot of treasures with discounts up to 80%!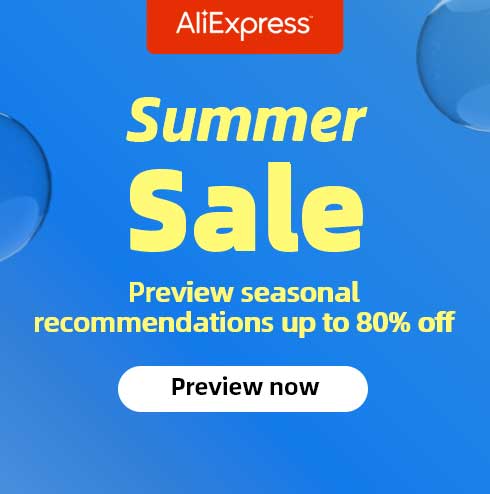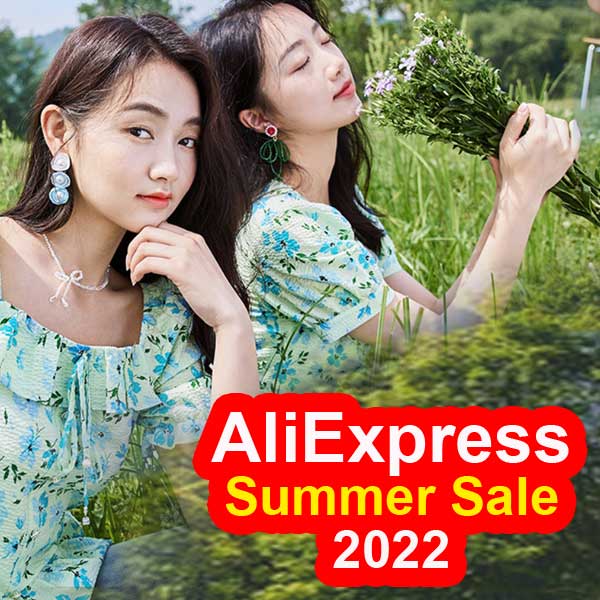 aliexpress sale june