Get ready for the hottest shopping event of the season! AliExpress Summer Sale 2023 is just around the corner, bringing you incredible discounts of up to 80% off on a wide range of products. Whether you're looking to upgrade your wardrobe, stock up on summer essentials, or snag some fantastic deals, this sale has got you covered.
JUNE 10 – WARM-UP! ADD PRODUCTS TO YOUR CART! – This sale has already ended.
PROMO CODES FOR SUMMER SALE ALIEXPRESS 2023
Northern: Summer Sale / Southern: Winter Mega Sale AliExpress
For countries located in the southern hemisphere, this sale will be called AliExpress Winter Mega Sale 2023 in June.
ALIEXPRESS SUMMER SALE JUNE 2023 HOME PAGES
SUMMER SALE: Get up to 50% off, and US $4 off every $30 (max $12)
CLEARANCE: Save up to 90% off
BESTSELLERS: Shop the most popular items now
3-7 DAYS DELIVERY: Up to 50% off
AMAZING MARKDOWNS – GLOBAL
BIG DISCOUNTS: Score great bargains up to 90% off
SPORTY SUMMER – Prepare for upcoming summer adventures
SUMMER SPLASH
ECO-FRIENDLY CYCLING
OUTDOOR FUN
FITNESS GEAR
SUMMER HOME REFRESH – Upcoming deals to revamp your home
CULINARY MUST-HAVES
COZY HOME LIVING
OUTDOOR OASIS
COOL GADGETS
TRENDY SUMMER STYLES – Discover the hottest fashion items
STYLISH SUMMER
URBAN FITNESS
Y2K AESTHETIC
DAILY OUTFITS
When is AliExpress Summer Sale 2023 in June?
Mark your calendars, as the warm-up sale kicks off on June 10th for 2 days, followed by the official sale period from June 12th to June 18th. And if you're located in the southern hemisphere, get ready for the AliExpress Winter Sale 2023 in June.
AliExpress Summer Sale 2023
Warm-up Time: June 10 00:00:00 – June 11 23:59:59 PDT (2 days). Add items to your shopping cart.
Sale Time: June 12 00:00:00 – July 18 23:59:59 PDT (7 days)
Extended Sale Period:
The AliExpress Summer Sale spans seven days, giving you ample time to explore the incredible deals and make the most of the savings. Starting from June 12th and running until June 18th, this week-long extravaganza ensures you have enough time to browse, compare prices, and snag the best bargains.
TIME LINE ALIEXPRESS SUMMER SALE / WINTER SALE
Jun 10-11 PT – Collect coupon codes & add top deals to cart
Jun 12-16 PT – Shop deals up to 80% off now
Jun 17-18 PT – Last chance to save on your fave picks

Exclusive Coupons and Promotional Codes
Prepare for even greater savings with a plethora of coupons and promotional codes. AliExpress is expected to offer a large number of discount vouchers, allowing you to unlock additional discounts on top of the already discounted prices. Keep an eye out for these special codes and coupons to maximize your savings and enjoy an even more budget-friendly shopping experience.
In June, we will be posting current promo codes for shopping on Aliexpress. Follow our news.
Pleasant Surprises Await
The AliExpress Summer Sale promises not only amazing discounts but also pleasant surprises along the way. Stay tuned for flash sales, limited-time offers, and exclusive deals that will make your shopping experience even more thrilling. With new surprises popping up throughout the sale period, you'll never know what fantastic offers await you.

Shopping Guide AliExpress 618 Summer Sale 2023
How it works.
Up to 80% off.
US $4 off every $30 spent (max $12 off)
Exclusive for your first order. Use this coupon on select items during our sale.
Collect coupons for more savings. Find coupons that can be applied to your purchase. Visit Coupon Center.
AliExpress Promo Codes and Coupons June 2023
When can I view the sale items?
You can start viewing the sale items and exploring the exciting deals during the warm-up sale, which begins on June 10th. This initial phase will give you a sneak peek into the fantastic offers that will be available during the AliExpress Summer Sale 2023. Following the warm-up sale, the official sale period will commence on June 12th and continue until June 18th.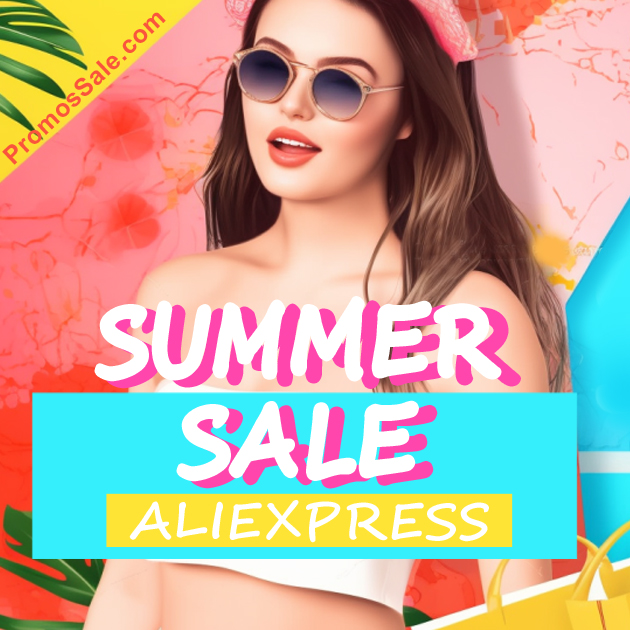 Don't miss out on the incredible savings and exciting shopping experience that the AliExpress Summer Sale 2023 has in store for you. With discounts of up to 80% off, extended sale periods, exclusive coupons, and delightful surprises, it's the perfect opportunity to indulge in some guilt-free retail therapy. Whether you're preparing for the summer or enjoying the winter season in the southern hemisphere, this sale has everything you need at prices that won't break the bank. Mark your calendars and get ready to shop 'til you drop during the AliExpress Summer Sale 618!
Do you like to buy on sale? Then don't miss the next Aliexpress promotions in 2023!
In anticipation of the highly anticipated AliExpress Summer Sale 2023, sellers are already gearing up for the promotion by making significant improvements to enhance the shopping experience.
AliExpress understands the importance of efficient logistics in ensuring a seamless shopping experience. In preparation for the Summer Sale, the platform has been actively working to improve its logistics network. By partnering with reliable shipping providers and streamlining their operations, AliExpress aims to shorten delivery times and provide customers with faster shipping options.
We wish you happy shopping!