Shopping online is convenient and can be done from the comfort of your own home. You can easily compare prices and products from multiple retailers without leaving your house.
AliExpress constantly offers attractive offers for its customers. Recently, buyers saw a new AliExpress CHOICE promotion. What it is?
What is AliExpress CHOICE?
AliExpress CHOICE offers you added benefits and guarantees with items specifically selected and shipped only by AliExpress.
The AliExpress platform has done all the work for you in choosing the best product.
Related >> AliExpress Sales 2023
AliExpress has done all the work for you in choosing the best product. On March 2, 2023, AliExpress, a global online retail marketplace that is part of the Alibaba Group, officially announced the launch of a new "AliExpress Featured" service that will provide the most valuable products. Selected stores will participate in a new monthly shopping event, Choice Day. From now on, Ali Express Choice offers free shipping, free returns, delivery guarantee and more affordable prices for customers in selected countries. From now on, Ali Express Choice offers free shipping, free returns, delivery guarantee and more affordable prices for customers in selected countries.
The new AliExpress CHOICE product features a curated selection of 50,000 items from the most popular and trusted sellers and online store in categories such as consumer electronics, fashion, beauty, sportswear, homewares and more. CHOICE products, identifiable by a special icon, come with numerous perks for shoppers, such as free shipping, guaranteed 15-day delivery, free returns, and superior quality items at unbeatable prices.
AliExpress CHOICE April 2023 Product List
How are the items on the Choice channel selected?
AliExpress compare thousands of items and select those that combines competitive prices and ease of delivery.
How can I start shopping using Choice?
When AliExpress Choice is available, you will see an invitation to participate in the promotion. You will see an advertising banner both on the computer and in the AliExpress application.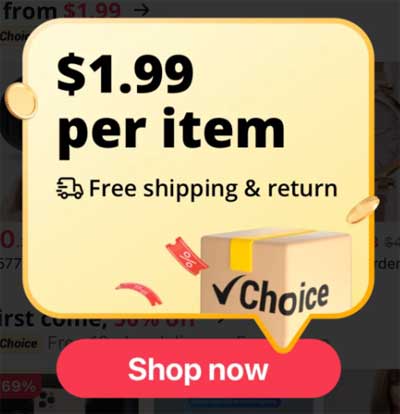 Look for the Choice tag next to selected items.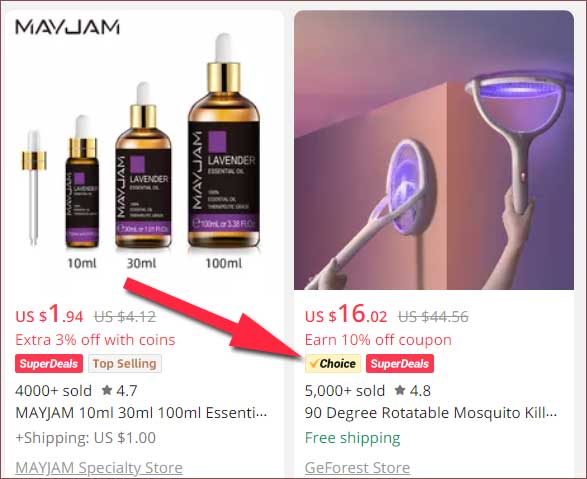 View the products featured in the previous "Choice on AliExpress Anniversary Sale 2023" promotion
Which countries can use AliExpress Choice?
The first countries that already use SELECT are Spain, South Korea, Australia and some other countries. In the future, the action will cover 55 countries.
Promotion Countries: Poland, Israel, Ukraine, Mexico, Chile, United Kingdom, Australia, Switzerland, Japan, Czech Republic, New Zealand, Lithuania, Latvia, Norway, Colombia, Hungary, Bulgaria, Estonia, Romania, Pakistan, Croatia, Nigeria, Ireland, Singapore, Austria, Greece, Sweden, Finland, Denmark, Thailand, Slovenia, Indonesia, Morocco, Malta, Sri Lanka, Malaysia, Luxembourg, Peru, Brazil, Germany, Netherlands, Italy, Portugal, Belgium, Slovakia, Saudi Arabia, United Arab Emirates, Oman, Kuwait, Qatar, Bahrain, United States, South Korea, Spain, France.
When is the AliExpress Choice action?
AliExpress will use Choice Day from the 1st to the 3rd of each month.
The next Ali Choice sale will be on April 1st.
Choice Day on AliExpress in May 2023
On sale: 2023/06/01–2023/06/03 PST
Key Benefits:
Free shipping over US $10
Earn 15% off orders $20+
US $3 off orders over $20
US $6 off orders over $40
spend US $20.00, get US $4.00 off for other countries
Promotion Countries: PL, IL, UA, MX, CL, UK, AU, CH, JP, CZ, NZ, LT, LV, NO, CO, HU, BG, EE, RO, PK, HR, NG, IE, SG, AT, GR, SE, FI, DK,
TH, SI, ID, MA, MT, LK, MY, LU, PE, BR, DE, NL, IT, PT, BE, SK, SA, AE, OM, KW, QA, BH, US, KR, ES, FR
Best Choice AliExpress Products June 2023
How does AliExpress Choice benefit customers?
Order from trusted stores
Favorable price, an order of magnitude lower compared to similar offers
Fast delivery
Free shipping on orders over $10
Additional discounts!
What are the rules for joining the AliExpress CHOICE promotion?
Rules AliExpress CHOICE
Your choice of items. To enjoy the full discount, you need to select at least 3 but no more than 10 items in one single purchase. No coupon or code is required. Simply add the items to your cart and get the discounted price at checkout.
Free shipping. Enjoy free shipping on all items. General shipping policies still apply.
Terms and conditions. All items must be purchased together in the same order to get the discounted price. Quantities are limited and available on a first-come, first-served basis.
Refund policy Get a full refund by canceling your entire order before it ships out. Keep in mind you can't get a refund by canceling part of your order. The advertised amount is based on an estimated conversion and for reference only. The actual exchange rate will be used to calculate the final amount.
The Choice channel is divided into several categories: "Recommended", "1 from $1.99", "First come", "US $6 off every $20", "Under $5", "$5-15" and "Over $15", "Trio of the day" and more. Categories may change over time. Click on a tab to see more products in that category.
Click on the Choice icon in the AliExpress app.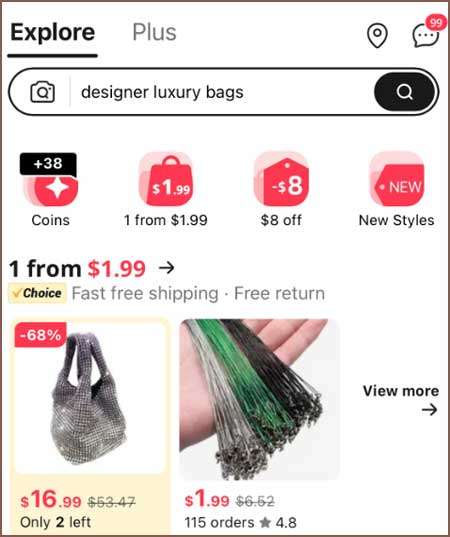 Choice Category: "Trio of the day".
Choose the item you like.
You can now buy more than 3 items. Pick more to save.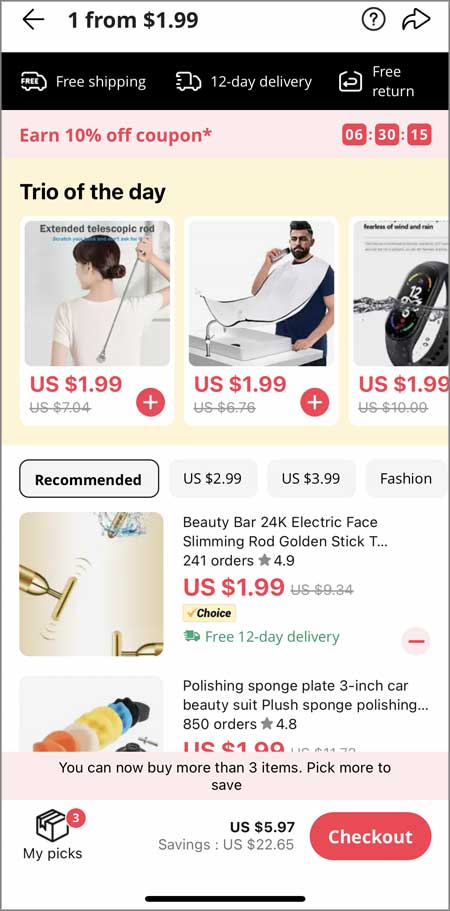 By participating in the Trio of the Day promotion, you can save a lot.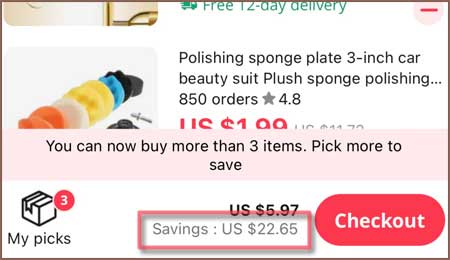 During AliExpress Choice Day, AliExpress also launched a $3 discount for every $15 order, a $6 discount for $30 and a comprehensive promotion for just $5.99 for any three items. If you are a new user, you only have to pay $0.99 for any three selected items.
AliExpress is dedicated to providing its customers with the best shopping experience possible and has implemented several new features to enhance the online shopping journey. These include a unique Discount for Two and Groups offering, a camera-based search function, exclusive deals for new app users, and more. Furthermore, AliExpress offers effortless online payment options, available both through their website and their mobile app.
AliExpress Unveils New "CHOICE" Offering in the USA. AliExpress has also launched Choice in South Korea, with the fastest delivery in 3-5 days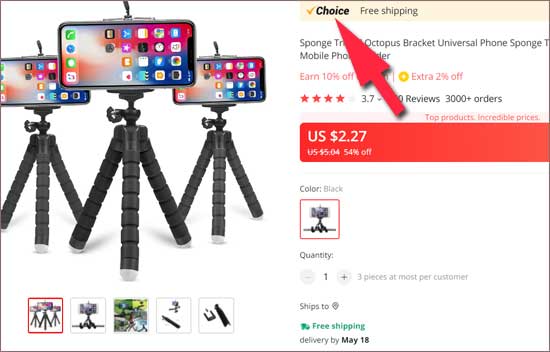 Do not forget that on AliExpress there are regularly big promotions and sales. Check out the dates for the next sale on AliExpress.
Why use Choice?
Choice makes your shopping easier and more convenient. Get free shipping on your orders, exclusive discounts and deals, and a personalized shopping experience. Start saving time and money today!
Do you like buying on Ali Choice?