AliExpress Sale Dates 2023 | AliExpress Sales | The AliExpress Shopping Events Calendar 2023 for Shoppers | Up to 90% Off
Don't worry if you can't remember all the sales bookmark this page, we will update this article often, So you can't miss any sales.
Share on Facebook | Share on Twiter | Share on Reddit
Looking for all the upcoming sales dates and offers on AliExpress 2023?
The AliExpress sales 2023 are important trading events. Shopping festivals and promotions on AliExpress are events that AliExpress promotes all year round. Sales on AliExpress are seasonal, holiday, themed and branded. The biggest sales happen just a few times a year. At the largest sales, shoppers receive huge discounts on products, coupons and promotional codes. Discounts can be up to 90%!
There is always something or the other going on AliExpress, which is a great thing! Whether you're looking for the next AliExpress sale or AliExpress deals today, we'll keep you up to date.
Save this page to your favorites and refer to it often. We will do our best to keep it updated with the most current information.
AliExpress Sale Dates 2023
January
AliExpress Promo Codes January 2023
January 1 – NEW YEAR'S DAY – Up to 75% Off New Year's Sale
January 1 – SUPER OFERTAS-EXTREME FLASH DEAL
January 3 – PLUS DAY – Shop coupons & up to 70% off selected brands
January 3 – SPOTLIGHT CHOICE – US $2 off & free shipping on orders over $10
January 4 – LOS REYES MAGOS 2023 – Spain
January 6 – ALIEXPRESS WINTER SALE (For Buyers From The United States)
January 9 – WINTER CLEARANCE EVENT – AliExpress Winter Sale. Great deals up to 70% off + US $3 off every $30 spent
January 10 – SUPER BRAND HUAWEI – BR only
January 14 – BRAND DAY REALME
January 16 – LOVE DELIVERS – Up to 60% off & X day delivery. US $3 off every $30 spent
January 16 – CARNIVAL OFFERS – Brazil
January 20 – WOMEN'S FASHION DEALS – up to 50% off
January 22 – CHINESE NEW YEAR 2023
January 25 – TRENDING BRANDS – Browser up to 65% off official picks
AliExpress Promo Codes and Coupons January 2023
February
Sales dates, promotions and deals on AliExpress in Feb 2023.
AliExpress Promo Codes and Coupons February 2023
March
March 8 – INTERNATIONAL WOMEN'S DAY
March 17 – ST. PATRICK'S DAY 2023
March 22 – RAMADAN 2023
March 28 – ALIEXPRESS ANNIVERSARY SALE 2023 – Up to 70% off coming soon
April
April 9 – EASTER 2023
April 14 – TOP BRANDS SALE
April 18 – NEW IN FASHION
April 23 – SUPER DEALS
April 25 – OUTDOOR FUN – Up to 70% off
May
May 2 – TRENDING INTERNET STYLES
May 17 – SPORT FUN – Explore new sports items. Shop now & enjoy deals up to 30% off
May 30 – TECH & FUN
June
June 1 – SUPER VALUE DEALS – Save more with coupons & up to 70% off
June 1 – SUMMER'S HOTTEST DEALS – Get up to 60% off for a limited time
June 17 – FASHION STYLE
June 18 – FATHER'S DAY 2023
June 22 – SUMMER SALE– Warm-up.
June 27 – SUMMER SALE – BIG SALE Up to 80% off
June 27 – DELIVERY IN 3-7 DAYS – ON SALE – Get up to 90% off deals direct from Europe
July
July 18 – SUMMER CLEARANCE ON ALIEXPRESS
July 28 – NEW ARRIVALS – Shop new arrivals from the brands you love
August
August 3 – BACK TO SCHOOL – Up to 50% off essentials for the new term. School is cool. Shop stunning new arrivals now
August 10 – SELECT FURNITURE FOR LESS – Fast 1-7 days delivery
August 17 – 828 MEGA BRAND SALE WARM-UP – Add items to cart! US $3 off every $30 spent (max $9) |Up to 80% off
August 26 – DISCOVERY – HOME
August 28 – 828 MEGA BRAND SALE – Up to 80% off.
September
October
November
November 11 – GLOBAL SHOPPING FESTIVAL ALIEXPRESS SALE 11.11 2023. Biggest day for online retail sales.
November 24 –ALIEXPRESS BLACK FRIDAY 2023
November 27 – ALIEXPRESS CYBER MONDAY 2023
December
We have put together a list of all the upcoming sales on AliExpress to help you keep track of it all.
The AliExpress Shopping Events Calendar: When and How to Make the Most of AliExpress Events
Throughout the course of the calendar year, AliExpress runs a number of special Shopping Events that offer particularly great deals. These events provide shoppers with a fantastic opportunity to purchase discounted items at a low price. In addition to the low price, shoppers can save even more by applying AliExpress coupons and promo codes.
Aliexpress Biggest Sale Days of the Year
Important Dates and Events for AliExpress buyers in 2023. When are the major sales on AliExpress.com?
Mostly, AliExpress is known for its 11.11 Global Shopping Festival Sale, which is a huge event for shoppers all over the world. Also, if you are an online shopper, you definitely know what we are saying. However, the e-commerce giant hosts many other sales events throughout the year.
When are the best sales of the year? Here are all the major sales to put on your calendar in 2023 so you can strategize your buys:
March 28 – 328 ALIEXPRESS ANNIVERSARY SALE 2023
August 28 – 828 MEGA BRAND SALE – Up to 80% off.
November 11 – GLOBAL SHOPPING FESTIVAL 11.11 2023. Biggest day for online retail sales.
November 24 –ALIEXPRESS BLACK FRIDAY 2023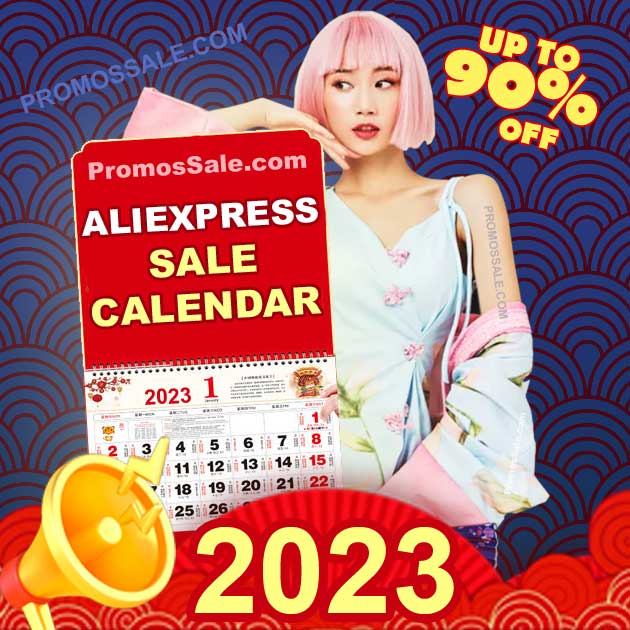 AliExpress sales calendar 2023 If you plan to shop online, this article will help you save a lot of money. When does AliExpress have sales, Ali express sale – don't miss big discounts in China. The holidays on AliExpress in 2023 will bring a lot of joy to shoppers. Promotion dates on AliExpress are subject to change. Stay tuned. discount calendar, upcoming events. Upcoming Sale Expected Date
AliExpress: Upcoming Sale 2023 Full List with Date & Offers
One of the best ways to make sure you don't miss out on important savings events this 2023 is to sign up for email alerts and follow us on social media.
Save on gadgets, clothing, home and sports products and more.