The article is updated. Follow our news!
AliExpress Anniversary Sale 2023 is an annual shopping festival celebrating the anniversary of the platform.
AliExpress Summer Sale 2023 in June

AliExpress buyers should not miss the big promotion because the sellers are preparing big deals.
Whether you're looking for gadgets, fashion, wigs, home and garden items, sports and leisure products, or something else, AliExpress has got you covered. On the site you will see discounts up to 70% on a wide range of products. Plus, there will be exclusive offers for new users, as well as additional discounts for those who use the AliExpress mobile app.
But that's not all – the AliExpress Anniversary Sale 2023 is not just about shopping. There will be a range of fun activities and games for shoppers to participate in, including treasure hunts, flash sales, and more. You'll also have the chance to win coupons and other prizes, making your shopping experience even more exciting.
This year, AliExpress has significantly increased its investment in the anniversary celebration compared to previous years. In addition to a significant increase in discounts and promotions across stores on the platform, starting March 1, AliExpress will conduct online and offline multi-channel large-scale joint marketing in key overseas markets such as Spain, South Korea and China. United States:
Thousands of internet celebrities will be promoting the event in the United States to reach different groups in different social circles; In Spain, in Barcelona, people will notice powerful advertisements all over the city. In Korea, there will also be advertising in the subway.
AliExpress Sales Calendar
AliExpress Promo Codes and Coupons March 2023
Big sale on AliExpress in March. Do not miss!
AliExpress Anniversary Sale 2023 promo codes are valid for all countries EXCEPT RU, AE, UZ, BH, KR, AM, KW, YE, FR, SA, ES, KZ, QA, BR, TJ, BY, MD, AZ, TM, KG, GE, OM, US
Effective period (PST) Mar 20, 2023 12:00:00 AM — Mar 26, 2023 11:59:59 PM
PROMOTIONAL CODES FOR ALIEXPRESS ANNIVERSARY SALE 2023
Get $3 off on orders over $25 with code: ANUP3
Get $5 off on orders over $45 with code: AN5
Get $9 off on orders over $75 with code: AN9
Get $18 off on orders over $150 with code: AN18
Get $25 off on orders over $210 with code: AN25
Get $35 off on orders over $290 with code: AN35
Get $3 off on orders over $25 with code: ANUP3PROMOS
Get $5 off on orders over $45 with code: AN5PROMOS
Get $9 off on orders over $75 with code: AN9PRMSS
Get $18 off on orders over $150 with code: AN18PRMSS
Get $25 off on orders over $210 with code: AN25PRMSS
Get $35 off on orders over $290 with code: AN35PRMSS
Which product categories will be discounted in the AliExpress Anniversary Sale?
When is the AliExpress Anniversary Sale 2023?
The AliExpress Anniversary Sale 2023 will start on March 18, 12:00 AM PT and last till March 26, 11:59 PM PT
March 18 – 03.18.2023 – 03.19.2023 PST (2 days) Warm-up Sale. Add items to cart, play games, earn coupons. Use coins to order now and save even more
March 20 – 03.20.2023 – 03.24.2023 PST (7 days) The sale has begun!
March 25-26 – Last chance! Save on your favorite picks!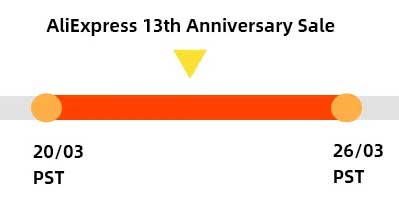 Get your reward! AliExpress is offering US $1 million in total l AliExpress Anniversary Sale
Top Brands on Sale 328
AliExpress recommends these stores. In stores you will see big discounts.
What to expect from the 13th Anniversary event on AliExpress?
If you're wondering what to expect, we have a sneak peek for you right here.
For starters, there will be significant price reductions at all shops that are taking part in the sale.
The amount of the full discount and the threshold for use vary from country to country.
US $4 off every US $20 spent (Max $16)
US, SA, KR: US $5 off every $30 (max $15)
FR: €3 off every €20 (max €12)
ES: €4 off every €20 (max €16)
BR: R$25 off every R$150 (max R$75)
Play GoGo Match on your phone
Millions of products with over 80% off
Seasonal discounts for customers
Lots of coupons: AliExpress Coupon, Select Coupon, Store Coupon
Great deals
Discounts from different stores can be combined with promo codes and store coupons
What discounts can I expect?
Discount for one product
AliExpress platform discount
Discount for combined order. What is a combined order on AliExpress.
Discount for items from multiple stores
Good deals to order from one shop
Free shipping provided by the store
Store promo codes
Use gold coins
AliExpress promo codes and our exclusive codes
Spend & Save
Save more with US $5 off every $30 (max $15)
US $5 off every $30
US $10 off every $60
US $15 off every $90
How to save
Step 1: Check for items that have a "US $5 off every $30 " label on the item's
detail page.
Step 2: Add the items to your cart.
Step 3: When you're ready to pay, the discount will be automatically applied to the order.
Step 4: If the price of the item(s) doesn't meet the minimum spending requirement of the
offer, you will see a notification in your cart. The more you shop, the more you save. The
maximum savings limit for an order is US $15.
Notice
The minimum spending amount to enjoy the promotional offers does not include shipping fees or tax.
Spend & Save can be used together with AliExpress
codes US20 (US $20 off orders over $120), US40 (US $40 off orders over $220)
When can I view the discounted prices?
Sale prices will be revealed on Mar 18, 2023 00:00:00 PT, a week before the sale date. You may also filter search results to show Anniversary Sale deals only.
Browse sale items and add to cart
Can't decide what to browse? Let these curated pages guide you better.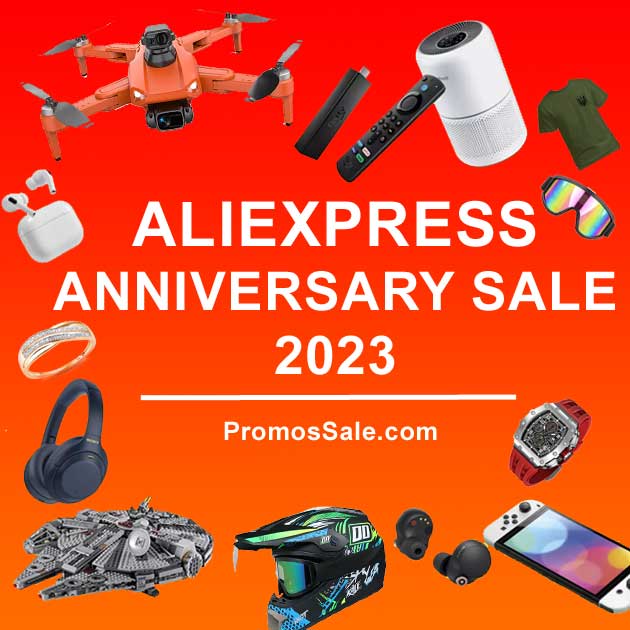 Start making your wishlist now and get ready for the shopping extravaganza of the year at AliExpress Anniversary Sale 2023!