Is AliExpress Legit? Reliable? Safe? Or Scam? Why Is It So Cheap?
How is AliExpress so cheap? It's simple if you know where AliExpress comes from.
Is AliExpress Legit?
Yes, AliExpress is a legitimate and reliable online shopping website The site has a helpful FAQ section, return policy, safe and reliable payments, money-back guarantee, 24/7 customer service.
AliExpress was originally characterized as China's answer to Amazon.
AliExpress is part of the Alibaba Group. Alibaba Group Holding Ltd engages in providing online and mobile marketplaces in retail and wholesale trade. Alibaba (BABA) went public in the U.S. by listing on the NYSE in September 2014.
AliExpress has won the trust of people all around the world.
So, you can trust the instinct of such a huge number of users when choosing AliExpress.
Is AliExpress Safe to Buy From?
When AliExpress was first founded in 2010, it was just a website full of low-quality fakes. But a few years later, AliExpress has expanded into one of the largest e-commerce platform. Stores of well-known brands have been opened on the site. Now the sale of counterfeit goods is prohibited by the rules for sellers. The quality of goods has improved significantly and the delivery of goods has accelerated significantly.
Is it worth buying on AliExpress?
It is worth buying on AliExpress.com because you'll be shopping directly in China, can shop from a wide variety of inexpensive and quality items, and will be using a safe and secure platform to complete your online purchase.
AliExpress has opened many warehouses around the world, so shipping is much faster than it was a year ago. For example, parcels in Europe take 3 to 5 days to arrive. If the warehouse is in the country where the goods are delivered, then you do not have to pay customs clearance.
How do you know if an AliExpress seller is legit?
You can get a good indication of an AliExpress seller being legit by looking at their shop. There, you'll be able to see how long they've had their AliExpress shop, how many products they've sold, and read reviews other customers have left.
Major stores and brand stores are marked with PLUS and STYLE ZONE icons. In such stores, the goods are of very high quality.
In stores owned by brands, on the "Brand Story" tab, you can see information about the company.
Hovering the mouse over the Store name will show when the store was opened, check the business license, check the seller's rating.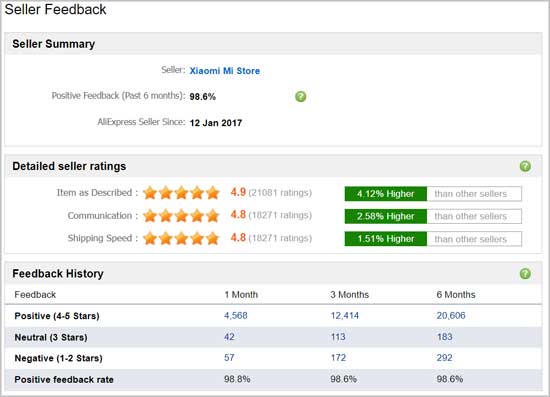 When an n AliExpress Store has thousands of sales, it tells buyers it's a trustworthy shop.
A low number of sales and lack of reviews doesn't necessarily indicate the seller can't be trusted. An AliExpress Store may have opened in the past month and simply been unable to make many sales in that time.
Analyze the reviews on the product page or in the seller's store. Read what the seller's customers have to say about how quickly the goods are delivered, whether the items look as good in person as they are pictured in the store, how the seller solves problems, and overall the quality of customer service. Aliexpress buyers are pretty honest in their opinions, so you'll know right away if a seller isn't delivering what they advertise.
Not all buyers will leave a review, but a store with several positive reviews is a good sign that it is safe to buy from them.
A store that's been open for several years tells you it should be safe to buy from. However, the new store may be just as reliable.
Is AliExpress safe for credit cards?
It is safe for buyers to use their credit cards on AliExpress.com. An AliExpress seller will never see your credit card information or have access to it.
What's more, AliExpress uses SSL (Secure Sockets Layer) to protect the credit card, and the debit card information of its users.
What Is AliExpress Purchase Protection?
In addition to providing quality products at unbeatable prices, AliExpress offers a Purchase Protection Program that is designed to ensure that customers can shop safely and with peace of mind.
Can you get scammed on AliExpress as a buyer?
Buyers can get scammed by individual sellers on AliExpress. However, AliExpress is committed to protecting its buyers and reimbursing them if scammed.
Can AliExpress sell fake products?
AliExpress doesn't sell fake products directly. Since there are thousands of sellers on Aliexpress, it is possible that you may encounter a situation where the supplier sells counterfeit products.
To prevent this, AliExpress has strict rules against the sale of fakes and severe penalties that can lead to the closure of the store on the Internet site or legal action.