Is AliExpress Legit? Reliable? Safe? Or Scam? Why Is It So Cheap?
How is AliExpress so cheap? It's simple if you know where AliExpress comes from.
Since this is a long article, you can easily skip to the section you're most interested in:
Is AliExpress Legit?
Yes, AliExpress is a legitimate online marketplace owned by Alibaba Group, a large multinational technology company based in China.
AliExpress is very safe to order items from in the sense that it isn't a fake company that will take your money or steals your information.
The site has a helpful FAQ section, return policy, safe and reliable payments, money-back guarantee, 24/7 customer service.
AliExpress was originally characterized as China's answer to Amazon.
AliExpress is part of the Alibaba Group. Alibaba Group Holding Ltd engages in providing online and mobile marketplaces in retail and wholesale trade. Alibaba (BABA) went public in the U.S. by listing on the NYSE in September 2014.
AliExpress has won the trust of people all around the world.
So, you can trust the instinct of such a huge number of users when choosing AliExpress.
What Is AliExpress?
AliExpress is an online retail platform.
It was launched in 2010 to provide a platform for small businesses and individuals in China to sell their products to customers all over the world. The founder of Alibaba Group is Jack Ma.
AliExpress is a subsidiary of the Alibaba Group, which is a publicly traded company listed on the New York Stock Exchange (NYSE) under the ticker symbol "BABA".
In September 2021, AliExpress operates in more than 220 countries and regions, supports transactions in 18 currencies, delivers millions of items worldwide.
Read about AliExpress History. Secret materials, unknown facts.
Is AliExpress Safe to Buy From?
When AliExpress was first founded in 2010, it was just a website full of low-quality fakes. But a few years later, AliExpress has expanded into one of the largest e-commerce platform. Stores of well-known brands have been opened on the site. Now the sale of counterfeit goods is prohibited by the rules for sellers. The quality of goods has improved significantly and the delivery of goods has accelerated significantly.
However, like with any online marketplace, there is always a risk of encountering fraudulent or counterfeit sellers. To minimize this risk, AliExpress has implemented various measures to ensure buyer protection, including buyer feedback ratings, dispute resolution services, and escrow payment systems.
That being said, it's important to exercise caution when shopping on AliExpress or any online marketplace. Be sure to read seller reviews and check their ratings before making a purchase, and be wary of deals that seem too good to be true. Additionally, be aware of the shipping times and potential customs fees when ordering products from international sellers.
Is aliexpress.com Safe?
Can you trust aliexpress.com? We want to help you shop with peace of mind. We checked aliexpress.com reputation at lots of sites, including Google safe Browsing, Virustotal and MyWOT. No security vendors flagged this URL as malicious.
The aliexpress. com website is safe and trustworthy.
No Malware Found
Site is not Blacklisted
No malware detected by scan
No injected spam detected
No defacements detected
No internal server errors detected
Can you get scammed on AliExpress as a buyer?
Is it worth buying on AliExpress?
It is worth buying on AliExpress.com because you'll be shopping directly in China, can shop from a wide variety of inexpensive and quality items, and will be using a safe and secure platform to complete your online purchase.
AliExpress has opened many warehouses around the world, so shipping is much faster than it was a year ago. For example, parcels in Europe take 3 to 5 days to arrive. If the warehouse is in the country where the goods are delivered, then you do not have to pay customs clearance.
If I buy a product on AliExpress, do I have to pay customs and other duties separately?
It depends on the product you purchase and your country's import regulations. In some cases, the customs duties and other taxes may be included in the price of the product, while in other cases, the buyer may be responsible for paying these fees separately.
When you purchase a product on AliExpress, the seller will typically list the product value on the customs declaration form. If the product value is above a certain threshold, you may be required to pay customs duties and taxes when the product is delivered to you.
To find out whether you will be responsible for paying customs duties and other taxes on your purchase, you should check your country's customs regulations.
In general, it is important to be aware of the potential for customs duties and other taxes when purchasing products from international sellers, as these fees can add significantly to the overall cost of the product.
If the goods are in stock in your country, then you do not need to pay customs duties. Look for information about the location of the goods in the warehouse in your country on the product page or ask the seller.
EU Tax VAT and packages from AliExpress
How does the AliExpress administration control sellers trading on this online platform?
AliExpress has a number of rules and regulations that sellers must follow. If a seller violates these rules, they can be fined or even removed from the platform. In order to register as a Chinese seller, they must provide a mobile phone number, business license, legal entity ID, Alipay Legal Entity Account Number, and, if required, a Trademark Certificate. This information helps to ensure that sellers are not anonymous and that they are subject to the laws of China.
Here are some of the ways that the AliExpress administration controls sellers:
Rules and regulations: Sellers must follow a set of rules and regulations, which are outlined in the AliExpress Seller Code of Conduct. These rules cover a variety of topics, including product quality, shipping, and customer service.
Monitoring: The AliExpress administration monitors seller behavior on a regular basis. This includes reviewing product listings, tracking shipping times, and responding to customer complaints.
Enforcement: If a seller violates the rules, the AliExpress administration may take action. This could include issuing a warning, fining the seller, or removing them from the platform.
The AliExpress administration's efforts to control sellers help to ensure that buyers have a positive experience on the platform. By following the rules and regulations, sellers can help to create a safe and reliable environment for buyers.
How do you know if an AliExpress seller is legit?
You can get a good indication of an AliExpress seller being legit by looking at their shop. There, you'll be able to see how long they've had their AliExpress shop, how many products they've sold, and read reviews other customers have left.
Major stores and brand stores are marked with PLUS and STYLE ZONE icons. In such stores, the goods are of very high quality.
In stores owned by brands, on the "Brand Story" tab, you can see information about the company.
Hovering the mouse over the Store name will show when the store was opened, check the business license, check the seller's rating.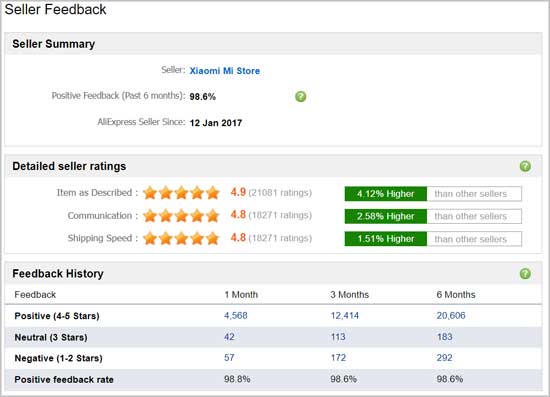 When an n AliExpress Store has thousands of sales, it tells buyers it's a trustworthy shop.
A low number of sales and lack of reviews doesn't necessarily indicate the seller can't be trusted. An AliExpress Store may have opened in the past month and simply been unable to make many sales in that time.
Analyze the reviews on the product page or in the seller's store. Read what the seller's customers have to say about how quickly the goods are delivered, whether the items look as good in person as they are pictured in the store, how the seller solves problems, and overall the quality of customer service. Aliexpress buyers are pretty honest in their opinions, so you'll know right away if a seller isn't delivering what they advertise.
Not all buyers will leave a review, but a store with several positive reviews is a good sign that it is safe to buy from them.
A store that's been open for several years tells you it should be safe to buy from. However, the new store may be just as reliable.
Is AliExpress trustworthy
Yes, AliExpress is trustworthy.
Of course, as with any online marketplace, there are risks associated with buying products on AliExpress, including the possibility of receiving counterfeit or low-quality products, or encountering fraudulent sellers. However, AliExpress has put in place various measures to help ensure the safety and security of its customers, including:
A buyer protection program that offers refunds and other forms of compensation for purchases that do not meet the seller's stated specifications or that are not delivered within the promised time frame.
A rating and feedback system that allows buyers to evaluate sellers based on their experiences and helps to identify reliable and trustworthy sellers.
A dispute resolution process that enables buyers and sellers to resolve conflicts in a fair and impartial manner.
Overall, while there is always some level of risk associated with online shopping, AliExpress can be considered a trustworthy and reliable platform as long as buyers take appropriate precautions, such as reading seller reviews and product descriptions carefully, and communicating with sellers to clarify any questions or concerns before making a purchase.
Is AliExpress safe for credit cards?
It is safe for buyers to use their credit cards on AliExpress.com. An AliExpress seller will never see your credit card information or have access to it.
What's more, AliExpress uses SSL (Secure Sockets Layer) to protect the credit card, and the debit card information of its users.
What Is AliExpress Purchase Protection?
In addition to providing quality products at unbeatable prices, AliExpress offers a Purchase Protection Program that is designed to ensure that customers can shop safely and with peace of mind.

AliExpress Purchase Protection is a service provided by AliExpress that allows buyers and sellers to communicate and transact. It is designed to protect buyers who purchase products on AliExpress and ensures that their purchases are covered in case of any problems.
When a buyer makes a purchase on AliExpress, they have a certain amount of time to receive their order and confirm that it is in good condition. If the buyer does not receive the order or if the order is not as described, they can file a dispute with AliExpress.
If the dispute is accepted, AliExpress will step in to help resolve the issue. They may provide a refund to the buyer, or work with the seller to provide a replacement or other solution. AliExpress will also monitor the dispute and ensure that the buyer is satisfied with the resolution.
AliExpress Purchase Protection provides buyers with peace of mind when shopping on the platform, and encourages sellers to provide high-quality products and services to their customers.
Can you get scammed on AliExpress as a buyer?
Buyers can get scammed by individual sellers on AliExpress. However, AliExpress is committed to protecting its buyers and reimbursing them if scammed.
Can AliExpress sell fake products?
AliExpress doesn't sell fake products directly. Since there are thousands of sellers on Aliexpress, it is possible that you may encounter a situation where the supplier sells counterfeit products.
To prevent this, AliExpress has strict rules against the sale of fakes and severe penalties that can lead to the closure of the store on the Internet site or legal action.
All in all, AliExpress is a fun and legitimate way to get some cheap items.