Spend & Save AliExpress 11.11. Get extra savings on the biggest sale of the year. Don't miss the World Shopping Festival.
Bookmark our page, and be the first to grab exclusive AliExpress 11.11 discount codes offering extra savings on sale items as well as your favorite bestsellers.
Get Extra savings on sale items. Up to 90% off sale prices plus additional discounts
The more you buy,
the more you save!
AliExpress 11.11 Sale 2022 Useful information
What is Spend & Save? – AliExpress 11.11
Spend & Save is a discount that increases as the total amount of your order increases, subject to the maximum accumulation limit on the order.
The bigger your order, the bigger the discount. This increases your savings and makes shopping on sale even more profitable. This exciting offer can be combined with other discounts, coupons and promo codes. This "Spend and Save" feature can only be applied by the shopper to select items from selected participating stores. But don't worry, there are plenty of participating stores. You will definitely be able to take advantage of the "Spend and Save" promotion.
How does "Spend and Save" work?
Step 1: Look for items with a Spend & Save logo or one of the following labels:
US $5 off every $30 spent (max $15)
€2 off every €25 spent (max €6)
P200 off every 2,000 spent (max #600)
R$15 off every R$150 spent (max R$45)
The max value indicates the maximum amount you can Save per order.
Step 2: Add qualifying items to your cart until you reach the minimum spending requirement.
Please note the maximum discount you can get. For example, if you spend US $90, you get
$15 off. But if you spend US $120, your discount is still $15.
Step 3: Continue to the payment page to see your total Spend & Save discount.
Step 4: Input an AliExpress promo code or coupon, if you have one, for additional savings.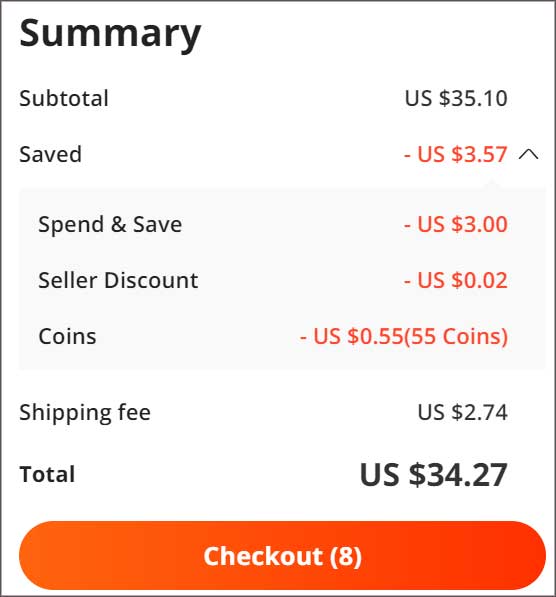 Additional tips – Spend & Save AliExpress 11.11
Is Spend & Save available in currencies other than US dollar, euro, ruble and Brazilian real?
Yes. If you shop in a currency not listed above, you can get US $5 off every $30 spent (max $15), according to the real-time exchange rate. Stick to a single currency setting while shopping and paying to prevent errors.
What does the minimum spending requirement include and exclude?
The minimum spending requirement is based on item prices only, and it excludes shipping costs and discounts. It also excludes tax fees, with the exception of EU/UK shoppers who choose "VAT included" items.
Can my order include items from multiple stores?
Yes. In addition, all items count toward the minimum spending requirement.
How are refunds calculated?
Refunds are based on the actual amount paid, after any discounts. For partial returns, the refund is based on the amount paid after discounts for the returned items only.
Can the Spend & Save discount be applied to more than 1 order?
Yes, you can enjoy the Spend & Save discount on any additional orders made during the sale.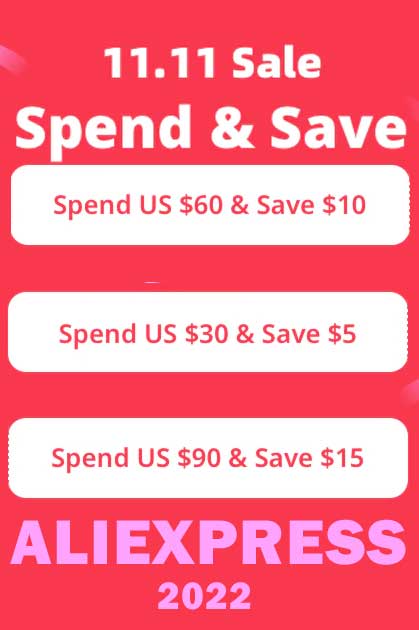 Check for products that have "US $5 off every US $30 spent, €2 off every €25 spent" mentioned on the product page