This 2022 article is out of date.
Don't miss the sale on AliExpress in 2023! Click HERE
Mega Brand AliExpress Sale. Discounts on a huge range of famous brands for a limited time. | Prepare Your Wallet. Shopping Festival.

Everything you need to know about AliExpress 828 Mega Brand Summer Sale 2022
If you are wondering when the AliExpress August Sale 2022 event starts and what discounts it'll bring, our guide has got you everything covered.
AliExpress Mega Brand Summer Sale 2022 start date
The AliExpress Sale starts on August 17, 2022, and will end on August 26, 2022.
Sale starts on Aug 22, 12:00 AM PT
When is the AliExpress Mega Brand Sale?
August 17 – WARM-UP ALIEXPRESS 828 MEGA BRAND SALE
August 22 – 828 MEGA BRAND SALE ON ALIEXPRESS
Event Period
Warm Up Period: 17th August 00:00:00 -21st June 23:59:59 PST (5 days)
On Sale Period: 22nd August 00:00:00 – 26th August 23:59:59 PST(5 days)
Aug 17, 2022 12:00:00 AM PT to Aug 26, 2022 11:59:59 PM PT
MEGA BRANDS SALE PAGES
MEGA BRANDS SALE
BACK-TO-SCHOOL SALE
DELIVERY IN 3-7 DAYS
BESTSELLERS
NEW ARRIVALS
PLUS / PLAZA
COUPON CENTER
Mega Brands Sale PLUS
Mega Brands Sale PLUS. Featured brands with up to 80% off. Claim a 50% off coupon & get free shipping
Featured brands on sale
Shipped within 72h
BUY MORE, SAVE MORE
US $3 off every $30 spent
US $6 off every $60 spent
US $9 off every $90 spent
AliExpress Mega Brand Summer Sale 2022 discounts
Throughout this entire period, expect to see some great deals from some of your favorite brands out there. However, if you're looking for something in particular, we have some news for you.
Big discounts on the sale will be provided by such brands: Ugreen, Simplee, Xiaomi, DEKO, ANKER, OnePlus and many others.
Mega Brand AliExpress Sale
When can I view the discounted prices?
Sale prices will be revealed on Aug 17, 2022 12:00:00 AM PT, five days before the sale date. You may also filter search results to show Mega Brand Sale deals only.
Be sure to check the promotional codes and coupons for the sale on our PromosSale website.
As one of the biggest annual AliExpress sales, the Mega Brand Summer Sale presents a great opportunity to buy items from popular brands that you've been eyeing.
Fantastic discounts on popular AliExpress brands such as Baseus, ROCKBROS, OnePlus, Cubot and ANKER, as well as great savings on products like e-bikes, smartphones, cordless phones and many other products.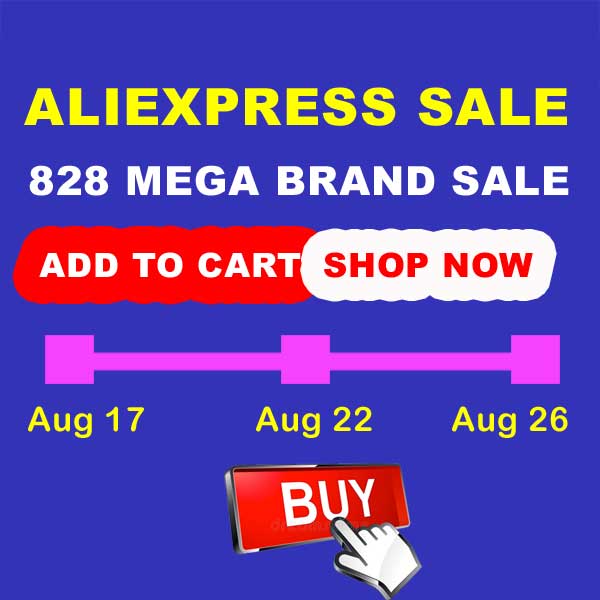 What is the next AliExpress Sale 2022?
Shopping Festival. The Big Sale on AliExpress at the end of summer gives you the opportunity to buy famous brands at low prices and at a big discount.