AliExpress End of Season Sale 828 August 2023: Unbeatable Discounts and Exclusive Offers
The highly anticipated AliExpress Big Promotion 828 marks the end of the summer season and serves as a prelude to the famous Double 11 and Double 12 promotions. With the sole purpose of delighting consumers with incredible discounts, this event offers a wide array of products at ultra-low prices. From summer essentials to school supplies, there's something for everyone during this grand sale.
When Does The Big Sale In August Start On Aliexpress?
Event Schedule:
August 18 – Warm-up: Add your favorite items to the shopping cart and get ready for the upcoming extravaganza. Collect coupon codes and add top deals to card
August 21 to August 25 – Sale: Bigger orders, bigger savings. Experience the thrill of shopping as the sale kicks off, giving you the opportunity to grab your desired products at fantastic prices.
August 26 to August 27 – Last chance deals
Money Saving Tips – AliExpress Back to School Sale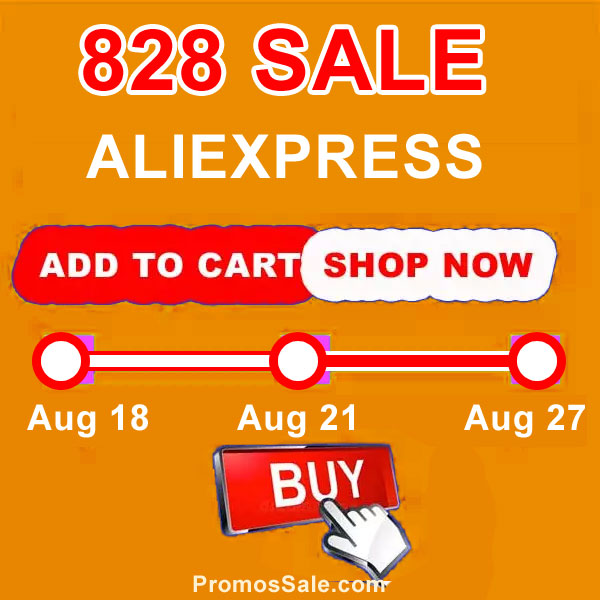 PROMO CODES FOR SALE IN AUGUST ON ALIEXPRESS
Coming soon/ We will publish promotional codes for the AliExpress End of Season Sale closer to the sale. Follow our news.
BACK-TO-SCHOOL BIG PROMOTION ALIEXPRESS
21.08.2023 – 27.08.2023
Universal Promo Code for USA 20% – US40
Spend & Save
Bigger orders, bigger savings
"Spend & Save" is a discount that increases as your order total increases, with a maximum savings limit per order. This offer is unique as it can be used together with other discounts, promo codes, and coupons, resulting in even greater savings.
How does Spend & Save work?
Step 1: Look for the Spend & Save benefits information on details page.
Step 2: Add Spend & Save items to cart until the total reaches the minimum spending amount for any
one of the discount thresholds.
Step 3: Continue to the payment page to see your total Spend & Save discount.
What kind of items are on Sale 828 in August on AliExpress?
The 828 sale offers discounts on a wide variety of products, including electronics, fashion, home goods, and more. Some of the most popular categories include:
Electronics: Smartphones, laptops, tablets, TVs, cameras, and more.
Fashion: Clothing, shoes, accessories, and jewelry.
Home goods: Furniture, appliances, décor, and more.
Health and beauty: Cosmetics, skincare products, and personal care items.
Baby and kids: Toys, clothes, and gear for babies and kids.
School Supplies: As part of the 828 sale, there will be a "Back to School" promotion.
ALIEXPRESS SALES AUGUST 2023 PAGES:
MAIN PAGE SALE
BUY MORE, SAVE MORE
MEGA BRANDS SALE
SALE TO SCHOOL
FAST SHIPPING 3-7 DAYS
FRESH FINDS
BEST SELLERS
NEW ARRIVALS
COUPON CENTER
How can I save the most money?
There are a few things you can do to save as much money as possible during the 828 sale. First, don't forget to follow our social media pages. This will give you early access to the sale and you will be the first to know about the best deals. Second, use a promo code or coupon. They can be found on our website – follow our news. Finally, be patient and shop around. There are a lot of great deals during the 828 sale, so don't be afraid to compare prices before you buy.
Related AliExpress Discount Calendar 2023
Why AliExpress End of Season Sale?
Irresistible Discounts: Enjoy jaw-dropping deals and discounts that will leave you pleasantly surprised.
Diverse Promotions: Experience a myriad of promotions and offers, tailored to meet your every need.
Massive Product Range: Explore a vast selection of goods, from summer must-haves to back-to-school essentials.
Shop with Confidence: AliExpress guarantees the quality of products and a secure shopping experience.

Don't miss this grand event, and make the most of AliExpress End of Season Sale to revamp your wardrobe, upgrade your gadgets, and prepare for the upcoming academic year. With unbeatable deals and exclusive offers, August 18 to August 27 is the time to shop till you drop!
AliExpress 828 sale will have a brand mega sale in August