AliExpress 11.11 Sale 2023. If you're a savvy shopper, you've probably heard about AliExpress' legendary 11.11 Sale. This annual shopping extravaganza has become a global phenomenon, offering incredible discounts, amazing deals, and a shopping experience like no other. In this comprehensive guide, we'll dive deep into the AliExpress 11.11 Sale 2023, answering all your burning questions and helping you make the most out of this epic event.
The article will be updated with new information. Follow our news!
Add items to cart from November 8, 2023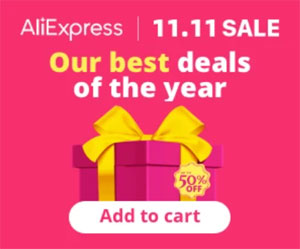 Official AliExpress sale banner 11/11/2023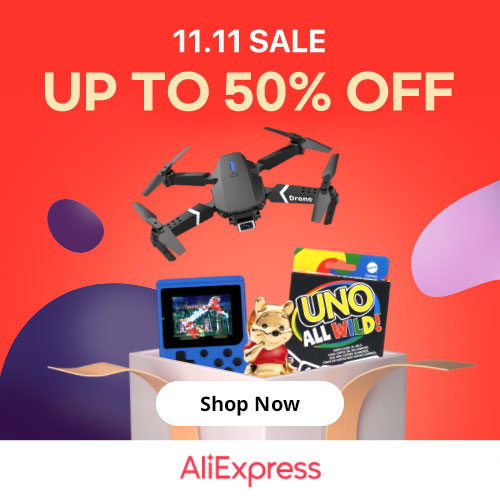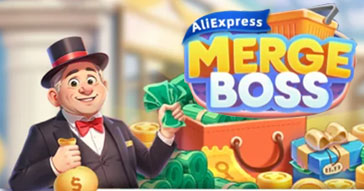 Table Of Contents
AliExpress has updated the application icon for smartphones and tablets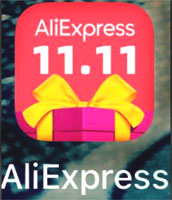 AliExpress 11.11 Sale, also known as Double Eleven or Singles' Day, is the world's largest online shopping festival. It originated in China and has now spread its magic to shoppers worldwide. It's a day when AliExpress offers jaw-dropping discounts on a wide range of products, from electronics to fashion and everything in between.
What Will Be on Sale During the Singles Day Sale?
The beauty of AliExpress 11.11 Sale lies in its diversity. You can find virtually anything you desire, from the latest gadgets to trendy fashion items, all at unbeatable prices. It's the perfect opportunity to stock up on holiday gifts, upgrade your tech, or indulge in some self-care.
When is the AliExpress 11.11 Sale in 2023 and How Long Will the Event Last?
Get ready for a shopping spree because AliExpress 11.11 Sale 2023 will run from November 8 to November 17. That's ten days of incredible discounts and deals! The event kicks off with three days of pre-warming, followed by seven days of official sales. That's a whole week of shopping madness.
November 8, 2023 – AliExpress 11.11 Warm-up
November 11, 2023 – AliExpress Big Sale 11.11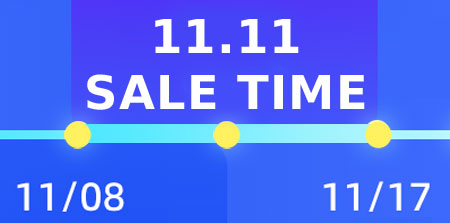 Will there be promotional codes for the 11.11 sale on AliExpress?
Yes, AliExpress will offer Promo Codes during the 11.11 sale. Promotional codes and exclusive coupons can be found on our PromosSale website.
During the warm-up period Nov. 8th to 10th, 2023 PST distribution of SUPER CODES is planned. This is Ali's new 11.11 promotion.
What Exciting Promotions Await You at the AliExpress 11.11 Big Sale in 2023
The AliExpress Shopping Festival 11.11 Sale 2023 Goes Global:
Throughout this year, AliExpress has been on a mission to enhance delivery efficiency and overall service quality. These improvements have not only fueled the growth of merchant transactions but have also set the stage for a spectacular Double Eleven Sale in 2023. Shoppers from every corner of the globe can look forward to an even deeper dive into the world of Chinese e-commerce during this monumental event. Furthermore, AliExpress is intensifying its investments in pivotal markets to ensure a shopping experience like no other.
Uzbekistan: AliExpress introduces a customs warehouse in Uzbekistan, along with exciting discounts on hot products.
Europe: Many European countries will enjoy the convenience of 5-day delivery, with lightning-fast next-day delivery in Spain. Brace yourself for mind-blowing flash sales in TV/live rooms, pervasive marketing across the online realm, and immersive in-store shopping experiences.
Brazil: Faster customs clearance is on the horizon, and Choice, the renowned cross-border co-branding program, will take center stage starting on the 10th.
USA: Prepare for a star-studded affair as celebrities lead the way in advertising through streaming media. Dive into an expansive world of online celebrity content and discover the excitement of offline pop-up stores.
South Korea: AliExpress is teaming up with hundreds of celebrities to elevate the shopping frenzy.
Middle East: A logistics upgrade is underway across six Gulf countries, offering newbies the perk of free shipping on their first three orders. Top internet celebrities will be showcasing sizzling products, adding to the shopping excitement.
The AliExpress 11.11 Big Sale in 2023 is set to be an unforgettable shopping event with promotions that cater to every shopper's delight. Don't miss out on this global extravaganza!
Which Countries Are Participating in the AliExpress Big Sale Days in November 2023?
AliExpress is all about bringing the world closer through shopping. Shoppers from around the globe can participate in this sale, making it truly international. Whether you're in the USA, Europe, South Korea, or the Middle East, you can join the fun.
What are the benefits of shopping the Double Eleven Sale on AliExpress?
There are many benefits to shopping the Double Eleven Sale on AliExpress, including:
Huge discounts: You can find discounts of up to 90% off on millions of products.
Free shipping: Many sellers offer free shipping during the 11.11 Sale.
Exclusive deals: AliExpress often has exclusive deals and promotions available during the 11.11 Sale.
New product releases: Many sellers release new products during the 11.11 Sale.
How to find the best AliExpress 11.11 deals
There are a few things you can do to find the best AliExpress 11.11 deals:
Shop early: The best deals tend to go quickly, so it's important to shop early.
Use the AliExpress app: The AliExpress app often has exclusive deals and promotions.
Follow your favorite sellers: Follow your favorite sellers on AliExpress so that you can be notified of any upcoming sales or promotions.
Use coupon codes: AliExpress often offers coupon codes that you can use to save money on your purchase.
How can I prepare to find the best deals?
Here are a few tips on how to prepare to find the best AliExpress 11.11 deals:
Make a list of the items you want to buy: This will help you to stay focused and avoid impulse purchases.
Set a budget: This will help you to avoid overspending.
Compare prices: Before you buy anything, compare prices from different sellers to make sure you're getting the best deal.
Read reviews: Read reviews of products before you buy them to get an idea of their quality.
Take advantage of the "Choice" promotion offers.
Do I need to register on AliExpress to take part in the AliExpress Singles Day Sale?
Yes, you need to be a registered AliExpress user in order to take part in the 11.11 Sale. You can register for a free AliExpress account on the AliExpress website or app.
Best AliExpress 11.11 Days deals
Some of the best AliExpress 11.11 Days deals include:
Electronics: Discounts on smartphones, laptops, TVs, and other electronics.
Clothing: Discounts on clothing for men, women, and children.
Home goods: Discounts on furniture, appliances, and other home goods.
Toys: Discounts on toys for children of all ages.
Beauty products: Discounts on makeup, skincare, and other beauty products.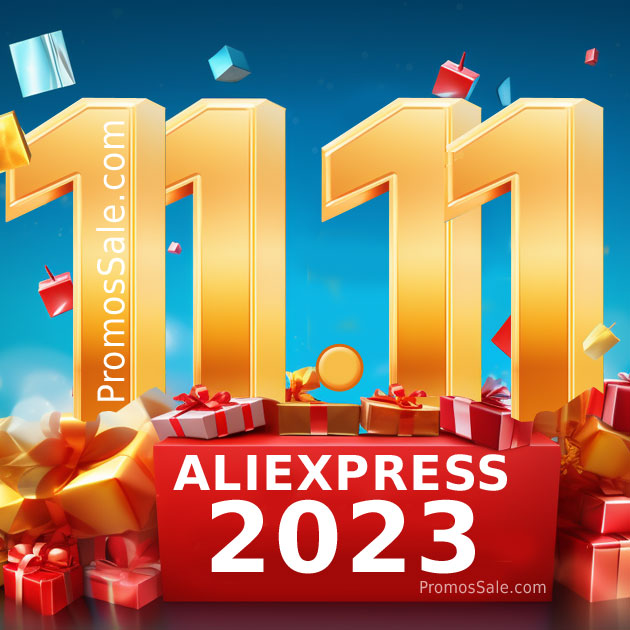 Get ready for the biggest shopping event of the year! AliExpress Singles' Day Sale is here, bringing you the 11.11 Shopping Extravaganza on AliExpress. Discover unbeatable deals during the AliExpress Double Eleven Sale on November 11th. It's the AliExpress Global Shopping Festival, and you won't want to miss it. The Ali Express 11.11 Mega Sale is your ticket to incredible savings. Black Friday 2023. Cyber Monday deals 2023 — date and predictions 알리 익스프레스 Enjoy Singles' Day Discounts on Ali and join the AliExpres November Shopping Bonanza. Don't wait, it's the 1111 Super Sale on AliExpress – your Singles' Day Shopping Spree starts now