AliExpress Pop-Up Tour with Tiffany Haddish to Bring Interactive Experiences and Unique Products
AliExpress made waves with its recent announcement of an exciting partnership with American actress Tiffany Haddish. The result? A dazzling Pop-Up Tour that promises unforgettable moments for shoppers.
From August 19 to 20, the AliExpress Summer Pop-Up Tour took over Los Angeles, USA, setting the stage for a remarkable shopping experience. But that's not all; the fun continued with more events in the following days:
August 22nd – 23rd (Tue & Wed 10 am–10 pm): Santa Monica Pier, 200 Santa Monica Pier Santa Monica
August 25th – 27th (Fri & Sat 10 am–9 pm, Sun 11 am–7 pm): Glendale Galleria, 100 West Broadway Suite 100, Glendale
At these vibrant events, AliExpress showcased a diverse array of products, highlighting its signature interactive and unique merchandise. From essentials for students heading back to school to home decor enthusiasts and fashion-forward trendsetters, there was something for every taste.
The AliExpress End of Summer "Back to School" Sale is currently underway.
Use promo codes for more savings.
Back to School – US Special Offers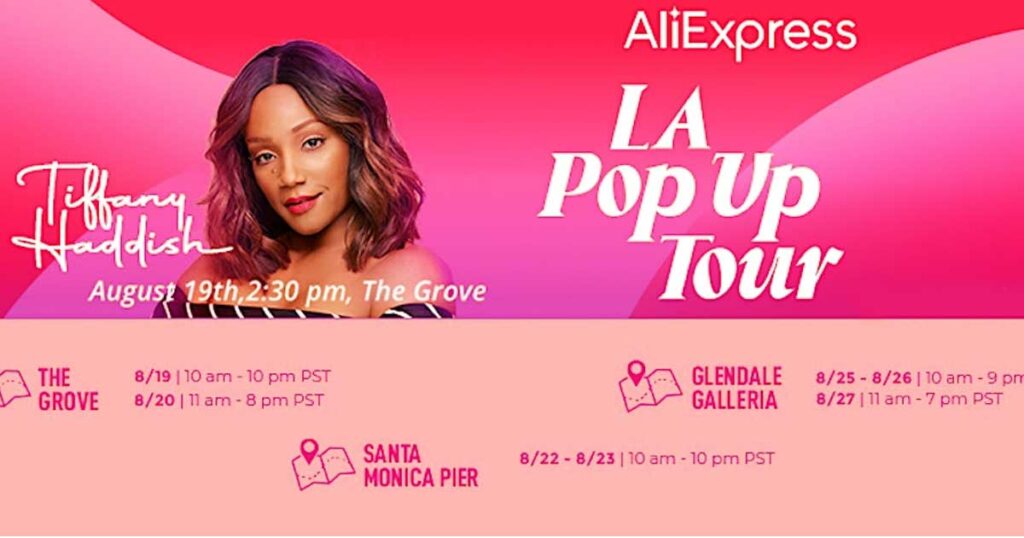 AliExpress had it all, from e-bikes to smartwatches, kitchen gadgets to hair tools, offering practical and fun solutions at fantastic prices.
And what's a celebration without prizes? The AliExpress Pop-Up Tour featured thrilling contests and roulette draws, giving attendees the chance to win fantastic prizes, including thousands of dollars.
AliExpress' foray into the world of Pop-Up Tours began in countries like Brazil and France. This year, with its focus on key national markets and full custody implementation, the platform is taking its retail magic to new heights. From celebrity endorsements to multi-location development conferences and partnerships with popular attractions like subways and buses, AliExpress is redefining the shopping experience. The result? Excitement, innovation, and exceptional deals that continue to captivate shoppers worldwide.