aliexpress customer service
How do I contact Amazon customer service?
AliExpress Customer Service
Aliexpress provides its customers with several ways to contact sellers and the Aliexpress team.
How to Contact AliExpress
Help Center. On the page you will find answers to frequently asked questions.
Assistant robot Eva. Online Service. 7 * 24 hours. The bot quickly fixes your problem or connects you to someone who can. Start chatting now. Robot Eva will quickly answer your questions. It fixes your issue, or connects you with a human if you need more help.
Contacts AliExpress in social networks. The company has its own pages on Facebook and Instagram. You can easily find the official pages of Aliexpress. For example, here is the Aliexpress Brazil page.
There are physical AliExpress Plaza stores in Spain. If you are guided in Spain, you can get a consultation at one of the stores in Madrid or Barcelona.
Alibaba's office. You can come to the official offices of Alibaba.
Contact the seller of Aliexpress. You can send a message to the seller from your personal Aliexpress account. Click here to go to the AliExpress Seller Messages page.
AliExpress Phone Numbers and Emails. Alibaba owns AliExpress. Although the support service of Alibaba and AliExpress site is different, you can try to call by phone or write an email. AliExpress does not have a toll-free phone number
AliExpress Customer Service Number
Phone AliExpress Plaza Xanadú in Spain, physical store in Madrid.
618 97 23 38
Alibaba Group Corporate Campus
China
Tel: (+86) 571-8502-2088
Alibaba, Hong Kong, China
Tel: (+852) 2215-5100
Alibaba, China, Hangzhou (Binjiang District)
Tel: (+86) 571-8502-2088
How to Contact AliExpress via Email
Data Protection
[email protected]
Privacy Inquiries
[email protected]
Email AliExpress Plaza Xanadú in Spain, physical store in Madrid.
[email protected]
How to contact AliExpress via social media
Aliexpress has several social media accounts. Most of the official Aliexpress pages are aimed at a local audience or an audience that speaks the same language.
Note that on facebook next to the name of the page Aliexpress should be a "verified badge"
, indicating the genuine presence of the brand AliExpress.
AliExpress's Facebook Page is one way to contact customer service.
Note. You can be redirected by Facebook to the Aliexpress page that matches your geographic location.
The official account of Aliexpress in social networks will give you the opportunity to ask questions to the official support service.
AliExpress's customer service Twitter account is @AliExpress_EN
,.
Customer support account from Russia on Twitter is @aliexpress
,
On Instagram, they're — you guessed it — @aliexpress
.
Alibaba's office.
Australia and New Zealand:
Level 2, 411 Collins Street,
Melbourne, Victoria,
VIC 3000
Australia
France (for France, Israel, Middle East and North Africa regions):
6th Floor
6 rue Ménars
75002 Paris
France
Germany (for Germany, Austria, Switzerland, Turkey and Eastern Europe):
1st Floor, Viktualienmarkt 8
80331 Munich
Germany
Italy (for Italy, Spain, Portugal and Greece):
Corso Europa, 13
20122 Milan
Italy
The Netherlands (for the Netherlands, Belgium and Luxembourg):
Herengracht 450
Amsterdam, 1017 CA
The Netherlands
U.K. (for U.K., Ireland and Nordics):
8th Floor, Millbank Tower
21-24 Millbank
London SW1P 4QP
United Kingdom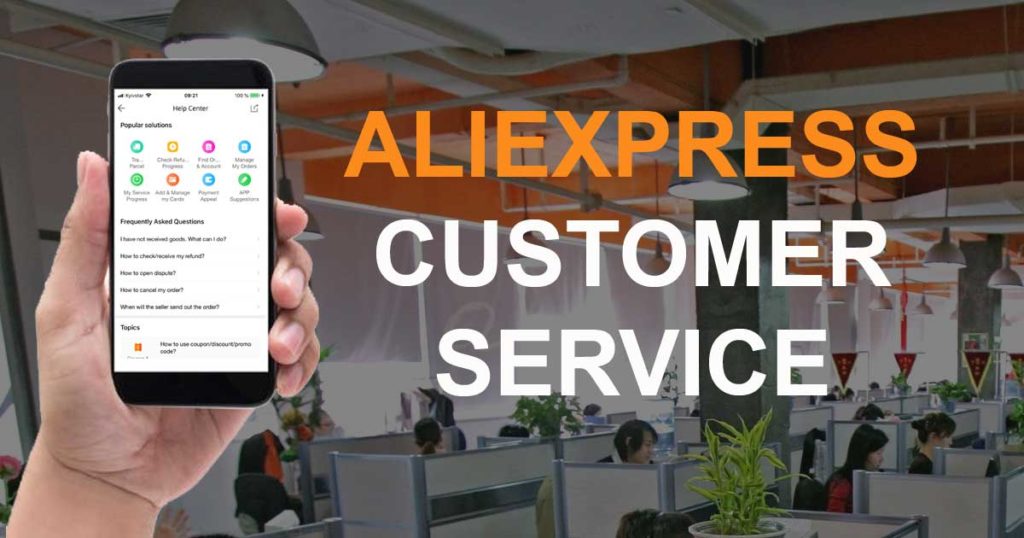 How do I reach a live person at AliExpress?
mail @ es.aliexpress.com
mail @ aliexpress.com
mail @ ko.aliexpress.com
aliexpress 24 hour customer service number

Call customer service