Does AliExpress take PayPal? Does AliExpress accept PayPal?
AliExpress Payment Methods: PayPal

HOW TO SAVE MORE WITH PAYPAL ON ALIEXPRESS
How can I use PayPal payment discount?
Valid from 00:00 onwards on November 11, 2021 PT to 23:59 on November 12, 2021 PT.
At the big sale on November 11, 2021, AliExpress is offering a discount to customers who pay with PayPal.
Get $3 off $30 PayPal AliExpress
The promotion is not available in all countries.
Select PayPal as payment method.
Buyers who've met the order threshold will immediately see the discount information.
The discount amount will automatically be deducted from the total order amount at the checkout stage.
This offer is available on AliExpress' desktop version, mobile site and app.
Limited redemption available distributed on a first come, first served basis.
Only 1 redemption per user.
Discount automatically applied at checkout when user pay through Paypal.
When your order ship to below countries, you can get instant off with below conditions:
United States Instant off 30-3 USD
Germany Instant off 20-2 EUR
United Kingdom Instant off 20-3 GBP
Italy Instant off 20-2 EUR
Israel Instant off 20-2 USD
Japan Instant off 20-2 USD
Belgium Instant off 20-2 EUR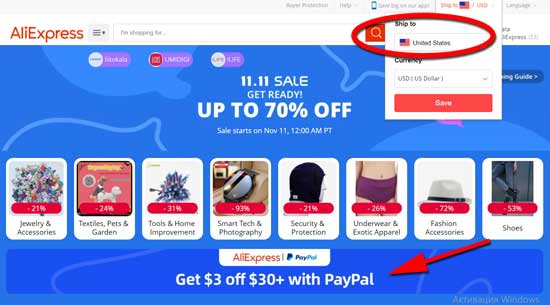 ARE THERE ANY LIMITS ON PAYPAL PAYMENTS ON ALIEXPRESS?
Restrictions may be applied to your personal PayPal account. There are no limits for transactions on Aliexpress. You can pay for items from $0.01 USD. If your PayPal account is Verified, there's no limit on the total amount of money you can send from your account.
HOW MUCH DOES PAYPAL CHARGE FOR A TRANSACTION ON ALIEXPRESS?
When paying with PayPal, AliExpress forces you to pay a specific commission based on the value of your purchase.
Commission fee: 0.8 USD when order amount <20 USD;
4% when order amount >=20 USD
HOW TO ADD PAYPAL TO ALIEXPRESS
When placing an order in the "Payment Methods" box, click on "Change". On the page that opens, change the payment method to PayPal.

How to Add PayPal to AliExpress Account? How to add a PayPal payment method to AliExpress?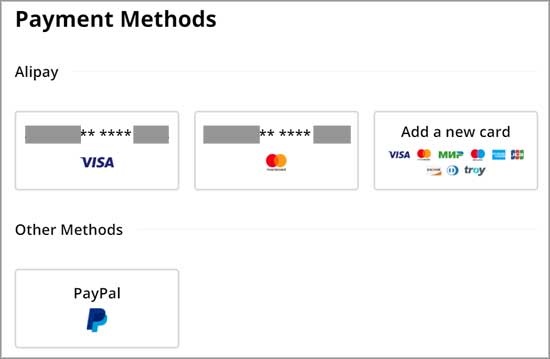 Important! Updating the payment method is possible only when placing new orders.
Click on "PayPal" and the following pop-up window will open in which you will need to sign in to your account with your email address and password. You will then be able to choose between the different cards that you have added to your PayPal account and confirm by clicking "Pay Now".
Can you pay with PayPal on AliExpress? Can I pay on AliExpress with PayPal?
Yes, Aliexpress allows users from many countries to pay by PayPal.
WHY CAN'T I PAY VIA PAYPAL ON ALIEXPRESS?
PayPal can only be used when seller has activated PayPal account for his/her store, and, meanwhile, the order will be shipped to below countries (in alphabetical order):
French, Germany, Italy, Israel, Netherland, Norway, Portugal, Poland, Spain, Sweden, Saudi Arabia, United States, United Kingdom, United Arab Emirates.
Note: PayPal will automatically be displayed among the payment methods if it is available. When it is not available, please use other payment methods.
HOW DO RETURNS WORK WHEN USING PAYPAL ON ALIEXPRESS?
The method of refund depends on the payment method. If you paid through PayPal, the refund will be processed and returned to PayPal.
Generally, the refund will be received in 3-20 business days. Please click the right Payment/Refund method for detail information about the refund.
PayPal has a policy of protecting both buyers and sellers.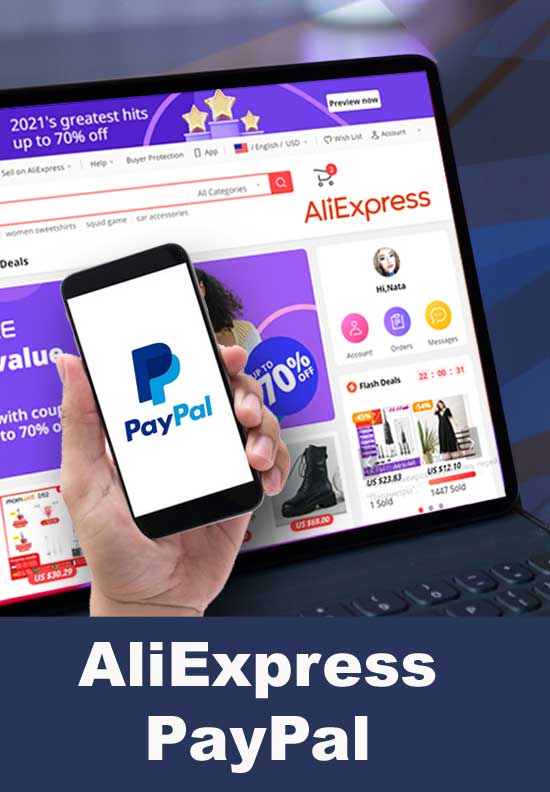 Buying with PayPal. PayPal connects buyers and sellers on Aliexpress's Chinese website. How do I pay for purchases?
Is it safe to pay for goods on the Chinese Aliexpress website using PayPal?
Yes, it's safe to pay for purchases. Risk for the buyer: Low
Secure payment methods. paypal login, ebay