Aliexpress Sale 11.11 2021: When does it start and end? When is Aliexpress's Biggest Sale?
This year's event will be on Thursday, November 11. Do note that the Sale is no longer a single day – the event has steadily creeped up from the original 24 hours to 48 hours in 2020, and this year it will last from 12 a.m. PST on Thursday, November 11 to 11:59 PT on Friday, November 12.. Here's why you should be excited.
Spend US $170 & Save $20 with code: PROMOS20
Spend US $60 & Save $8 with code: PROMOS8
The Sale is preceded by a Warm-up. This is a very important sale period.
During the warm-up period of the sale, you can see the prices that will be in effect on the days of the "Double Eleven", add items to the cart, play games, earn coins, win prizes, receive coupons. On our PromosSale.com we will publish special promo codes for the 11.11 Sale.
The company boasts that the event will include more than a million deals around the world.
Read: How to Get Maximum Discount on Aliexpress 11.11 Sale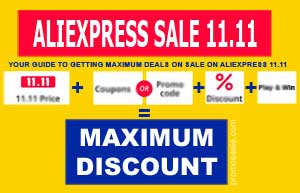 November 11 – 12, you will need to use coupons and promotional codes for the AliExpress 11.11 sale
What date is AliExpress Big Sale 11.11 2021?
11th of November. This means the Biggest Sale this year will be on November 11th. Keep an eye on this page to find out more about Aliexpress Big Sale 11.11 2021
At this year's Double 11 Sale, AliExpress and Cainiao launched additional logistics services to provide customers with a convenient way to receive their packages. What is AliExpress Combined Delivery?
What time does Sale 11.11 start on Aliexpress?
New deals start at 12:01 AM PT so this is the best time to pay for items.
When does the warm-up period for Aliexpress 11 11  2021 sale start?
The warm-up period will start on October 28 2021 12:00:00 AM PT onwards.
During this period, collect coins and coupons, play games, add items to your cart.
Promotion Period: 28-10-2021 – 10-11-2021 –  Warm-Up.  Add items to cart & get ready to save.
Aliexpress Sale 11.11 2021: When does it start and end?
Warm-Up – Time period: 28 October 2021 00:00:00 PST until 10 November 2021 23:59:59 PST
Big Sale – The 11.11 Global Shopping Festival 2021 will start on Nov 11, 12:00 AM PT and last till Nov 12, 11:59 PM PT Choose from millions of bestsellers at low prices with discounts up to 80%!
Sale Period: 11th Nov 00:00:00-12th Nov 23:59:59 PST (2 days)
Aliexpress 11.11 Sale 2021  – what to expect this November,
Is Global Shopping Festival 11.11 available outside the China?
Yes. 11.11 Global Shopping Festival continues to expand to more countries each year. ​AliExpress is the global platform of the Alibaba Group, present in more than 190 countries and regions.
The Aliexpress 11.11 Global Shopping Festival sale kicks off November 11 and run for 48 hours.
Buckle up for more than 1 million deals.
Is Aliexpress doing Black Friday sales?
Usually, Aliexpress combines the sale on November 11 and Black Friday, which go one after the other.
Buyers will be able to take advantage of two-day deals on a range of products and services.
The Global Festival (or Singles Day) offers will have the best deals on smartphones, electronics, home appliances, health products, kitchens, clothing for men and women, baby products, sporting goods, and more.
2021 AliExpress 11.11 Sale: ULTIMATE GUIDE
When does 11.11 start? When is the Aliexpress Sale 11.11 2021?
It starts at Nov 11, 2021 12:00 AM PT (Pacific Time).
In November, a very large sale is taking place on the Chinese site of Ali Express. Thousands of sellers are accepted into the action, who empty their warehouses and stocks of goods. Preparing for the new season, sellers set prices for goods with discounts from 50% to 90%. On average, discounts on the Double Eleven sale are 70%. The sellers' suggestions are very good. The sellers offer very low prices for the sale. Delivery to buyers will be fast. Millions of buyers around the world will take advantage of the holiday discounts. On the 11.11 sale days, Aliexpress will be able to earn extra coins, get coupons and apply promotional codes. It is very profitable to buy at such a huge sale. Aliexpress is very popular in all countries: the USA, Canada, Brazil, Spain, Italy, France, Poland, Korea and many other countries. Get ready for great deals and discounts!
AliExpress Coupons, Promo Codes and Deals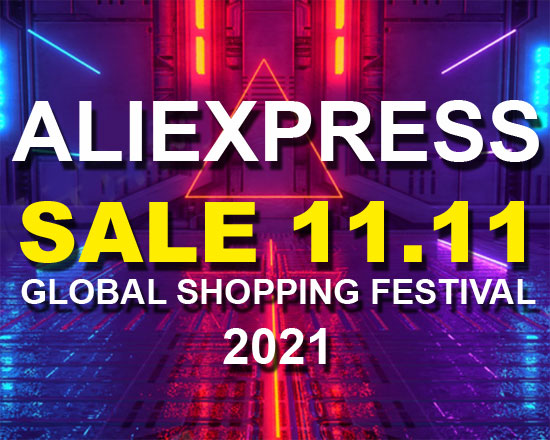 알리 익스프레스 aliexpress black friday