The term "7-day delivery AliExpress meaning" refers to the timeframe in which products are expected to be delivered when shipped from a local warehouse within the same country.
7-day delivery AliExpress meaning
AliExpress has recently introduced a new shipping option called Domestic Delivery. This option offers shoppers a number of benefits, including:
Faster delivery: Domestic Delivery products are shipped from warehouses located in your country, which means that you can expect to receive your order in just 2-7 days.
Easy returns: All Domestic Delivery orders can be returned to the warehouse located in your country, as long as they are in perfect condition.
No customs fees: Products that are shipped from your country have already been cleared by customs, so you won't be asked to pay any additional customs fees.
How can you find products that are located in your country? There are a few ways:
On the search results page, you can find items that can be shipped from your country by clicking the "Ship From" filter.
On product pages, sellers also display the countries they have warehouses in. Simply choose your desired location for easy, convenient delivery.
Filter "Ship From" on the search results page.

The product pages list the countries that have warehouses with the product.
Delivery of goods within the country can take from 2 to 7 days.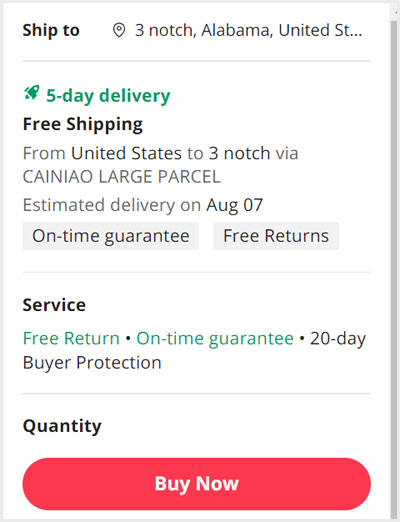 Why do product prices sometimes change when you choose Domestic Delivery?
All Domestic Delivery products have already gone through customs, meaning that all import fees have been paid and are included in the final product price.
How do you return an item?
You can submit a refund request before your order has been completed. The order completion date can be found in the order details page. Refunds can be completed in 3 simple steps:
Open Dispute, select "Easy Returns"
Return the goods
Get your refund
Who pays for return shipping? – AliExpress
If you would like to return your items, you will be asked to send them back to the warehouse located in your country. You will need to pay for the shipping cost yourself.
Can I return an item after I've used it? – AliExpress
No, only items in perfect condition, unused and in the original packaging can be returned.
Overall, Domestic Delivery is a great option for shoppers who want to get their orders quickly and easily. With no customs fees and easy returns, it's a great way to shop on AliExpress.
Here are some additional tips for using Domestic Delivery:
Make sure that the product you want is eligible for Domestic Delivery. Not all products on AliExpress are eligible for this shipping option.
Check the delivery time before you order. The delivery time for Domestic Delivery products can vary depending on the seller and the location of the warehouse.
Plan ahead for returns. If you think you might want to return an item, make sure that you can do so within the return window.
With these tips in mind, you can be sure to have a positive experience with Domestic Delivery on AliExpress.