AliExpress is known for its vast selection of products, but have you ever noticed that some products seem to disappear overnight? While it may seem like these products are gone forever, the reality is that they are simply no longer in stock. When nobody is in stock for a product, AliExpress usually hides that product page from customer search results.
AliExpress is all about customer satisfaction and convenience, so it's no surprise that they don't want customers to waste their time searching for a product that isn't available. This helps AliExpress keep their website organized and efficient. It also helps them avoid any potential customer frustration or confusion.
The disappearance of certain products on AliExpress can be beneficial for both customers and sellers alike. Customers can save time by not having to search for products that aren't available, while sellers can focus on stocking items with consistent demand instead of wasting resources on low-demand items.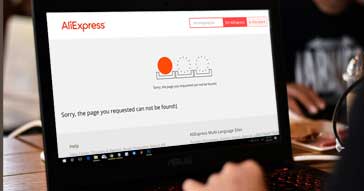 What are the main reasons when products disappear from AliExpress?
AliExpress has rules for displaying items in search and blocking inactive items.
From December 2022, the rules of the AliExpress platform have been significantly adjusted. AliExpress introduced rules to manage inactive items. These rules have been introduced so that sellers can provide products with higher quality, favorable prices, and so that their products are competitive.
What are inactive items on AliExpress?
Inactive items on AliExpress are items created over 90 days and not sold within 180 days. These products have a low competitiveness.
AliExpress applies traffic blocking to inactive items, removes the item from search results and then removes the product completely. If a shop has a lot of inactive products with low sales, the AliExpress platform can affect the shop's traffic and can also remove the shop completely.
These measures are applied by AliExpress to create a better environment for shoppers.
When can we expect the next sale on AliExpress?
Temporarily out of stock
Many sellers on AliExpress are not manufacturers. For goods, especially those with high demand, it is only natural that stocks can run out. Sellers store goods in their warehouses. Warehouses may be located in different countries to ensure high speed of delivery. After replenishment of stocks in the warehouse, the goods may again be available for purchase.
The product is obsolete and discontinued.
Obsolete: This product is no more. It is now obsolete and will no long be available on the website. The product is no longer manufactured and is out of stock. You can look for the same product in other AliExpress shops if they still have old stock.
The goods are counterfeit.
The item is a replica and prohibited by copyright, so the seller removed it to avoid AliExpress penalties.
Products offered for sale on AliExpress must be authentic. The sale of counterfeit products is strictly prohibited. Special services monitor the goods and remove them from the website if they are found to be counterfeit.
Prohibited items for sale and postal delivery
AliExpress is known as the large department store, with everything from smartphones to industrial machines available on the site. The sale of many items is governed by different laws in different countries, and some things are simply not safe to ship through the post.
Sellers may not sell any item that is restricted or prohibited by a federal, state or local law in any country or jurisdiction.
Therefore, some products on AliExpress that do not comply with the rules disappear from the site very quickly. See the full list of prohibited items here.
The store has closed on AliExpress
Stores on AliExpress are closed for various reasons: the contract has ended, the license has ended, the goods have run out, the business is unprofitable, the store has violated AliExpress rules and other reasons.
If a product disappears from the site, it also disappears from your shopping cart. And also in the wish list, the product is inactive.
How can I find a missing item? You can click the "View similar items" button to find the item from other sellers.

Learn about the main reasons why a product may be removed from AliExpress website. Learn why items disappear from the Ali Express, including product recalls, quality control issues, Alibaba policies and regulations, and other factors. Missing products. Product pages disappeared. Prohibited Products. The product is discontinued. If the company doesn't sell it anymore, AliExpress will stop selling it. It is no longer in demand.