Chinese New Year 2023 is coming up and AliExpress is determined to make sure that their customers are having a great shopping experience. To ensure customer satisfaction, AliExpress has taken several steps to make sure that their customers can enjoy their Chinese New Year shopping.
First, sellers have made sure to stock up on goods in the warehouse in advance so that they don't run out of items during the busy holiday season. They have also warned the buyers about the vacation and sale periods so that they can plan their purchases accordingly. Moreover, AliExpress has also come up with attractive deals and discounts for customers who shop during this period.
Please note that the following orders are not affected by the terms and speed of delivery during the Spring Festival.
if the seller is located outside of China and the order is shipped from other countries or regions outside of China;
if the seller works in China, but orders are sent from other countries.
What other changes will happen at AliExpress during the Chinese New Year?
order negotiation and dispute negotiation time will increase. From 00:00:00 on January 21, 2023 to 23:59:59 on January 27, 2023 Beijing time, the post-sale negotiation time will be delayed by 7 days;
From 00:00:00 on January 21, 2023 to 23:59:59 on January 27, 2023 Beijing time, the AliExpress administration will intervene in disputes. For orders that require response from sellers, the response time will be increased by 7 days, from 3 days to 10 days;
For orders that were ordered by the buyer between 00:00:00 on January 16, 2023 and 00:00:00 on January 28, 2023 Beijing time, and the parcel's shipping location is in China, the period for logistics commitment and delivery will be extended by 5 days.
The deadline for refunds and returns for orders that will be shipped from China between 00:00:00 on January 14, 2023 to 23:59:59 on January 29 will be extended by 5 days
Chinese New Year! How does Chinese New Year affect AliExpress?
Can I shop during the Chinese New Year period?
What strategies do sellers use to take advantage of the Chinese New Year season on AliExpress?
AliExpress's most important innovation this year, making things easier for sellers and increasing customer satisfaction, is the Safe New Year's full customer support service.
What does it mean?
First, there is the "full custody" model, where "people are on vacation and goods are being delivered." Simply put, before the Spring Holiday, AliExpress sellers put the goods on the shelves, inform the price of the goods to the official of AliExpress, and finally prepare the goods for AliExpress in China warehouse in advance. Once these three points are reached, other work such as logistics, after-sales service, compliance policy and exchange rate fluctuations will be under the control and execution of AliExpress. During the entire Spring Holiday, even if the store is on vacation, AliExpress officials will still help the sellers in the daily work and delivery of the goods from the store, as well as provide good customer service.
The second is the after-sales service guarantee. In e-commerce, the most troublesome thing is undoubtedly after-sales service. Whether it is communication and coordination, or returning and exchanging goods, it is very troublesome. The AliExpress platform will be responsible for reimbursing the consumer for post-sales issues that occur during this period. .
The AliExpress platform takes over the promotion of goods during the Chinese New Year celebration.
In this way, AliExpress sellers and buyers can really "feel at ease in the New Year."
All of these measures will help AliExpress ensure customer satisfaction during Chinese New Year 2023.
Chinese New Year 2023 – When is Chinese New Year 2023?
Chinese New Year 2023 falls on Sunday, January 22nd, 2023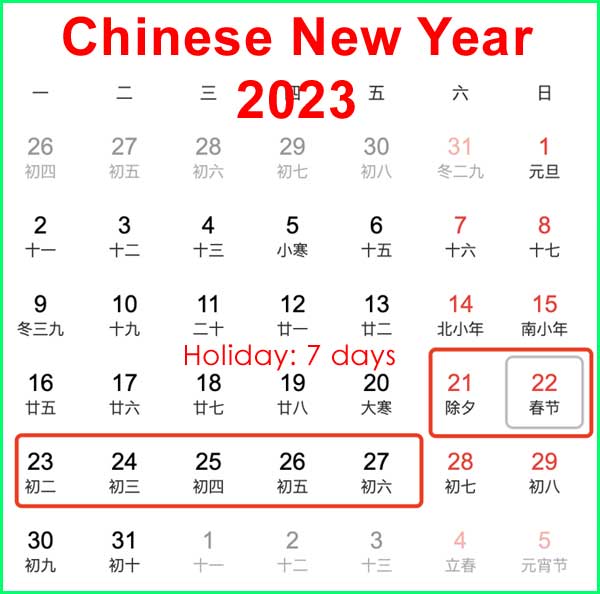 AliExpress Chinese New Year 2023
The sellers are confident that you'll be satisfied with your purchases.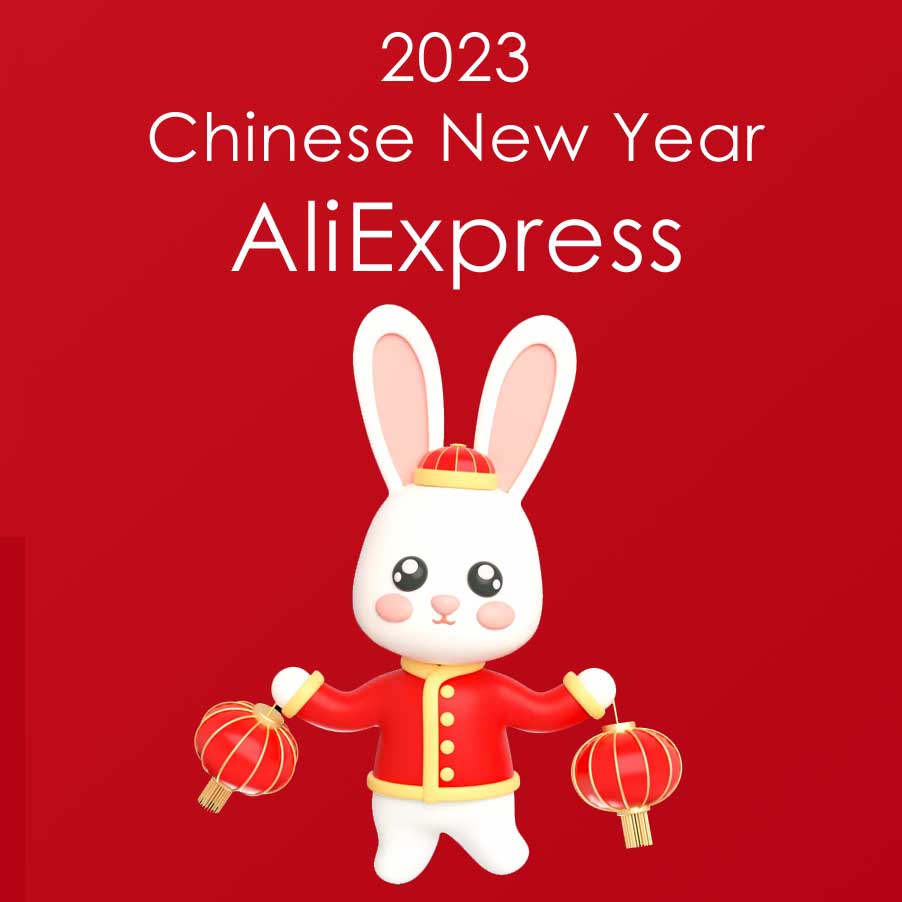 Various events held across China to celebrate upcoming Lantern Festival. China's foreign trade in goods is expected to keep expanding this year/ The 2023 Chinese New Year event was launched on Saturday and will last until Feb 6 (the 16th of the first lunar month), for a total of 24 days. But hardworking sellers on AliExpress continue to work.