When does 11.11 2019 start Aliexpress? When will pre-orders start?
What time does AliExpress 11.11  2020 sale start?
11.11.2019 Global Shopping Festival is the biggest sale on AliExpress.com, offering millions of products for up to 80% off.  Shop our best deals of the year with coupons and promo codes to score the biggest savings online! What awaits on us during this period? When we are waiting for big discounts? What is the best way to save money?
11.11 Global Shopping Festival
Millions of Products at Unbeatable Prices
Best time to shop on aliexpress for cheap prices 2020
AliExpress Promo Codes November 2019 / SALE AliExpress 11.11.
>>11.11. IS COMING!<<
11.11.2019 Global Shopping Festival is a multi-billion dollar shopping day on Aliexpress.com in China. The Singles Day is a global shopping event is the largest ever online shopping event with regards to reach and scale.
When does 11.11. start?
Sale starts Nov 11, 12:00 AM PT
The promotion begins on 28 October 2019 00:00:00 PST and ends on 12 November 2019 23:59:59 PST
AliExpress 11.11 Global Shopping Festival 2019
AliExpress 2019 11.11 Plan
Warm-Up – Time period: 28 October 2019 00:00:00 PST until 10 November 2019 23:59:59 PST
1. Add to cart to earn points and redeem more coupon
2. Get coupon at one click only!
3. Complete missions and playing game
Nov 11 – Nov 12 PST Big Sale
Place an order with all coupons you win!
Get a large coupon from time to time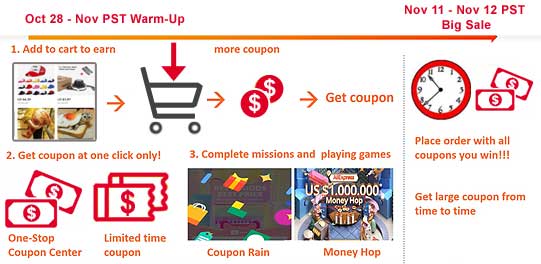 October 28 – DEALS BY LIFESTYLE – A better life for the best prices
October 28 –  SAVE MORE WITH TOP BRANDS – The best sale: Up to 50% off
October 28 – HOT & TRENDY FOR 11.11 – Best sale of the year is near
October 28 – HOT BRANDS ON SALE – Stock up on exclusive coupons
November 11 –  GLOBAL SHOPPING FESTIVAL 11.11 2019. Biggest day for online retail sales.
November 11 – DREAM SALE: UP TO 70% OFF – Only on 11.11
November 11 – SHOP BY LIFESTYLE  – Get what you love up to 50% off
November 11 – SHOP TOP BRANDS HERE – Grab deals at up to 50% off
November 11 – BIG CLEARANCE DISCOUNTS – Grab deals above 50% off
November 11 – SHOP BESTSELLERS – Up to 50% off our hottest items
MONEY HOP
FLOATING COUPON
GET COUPONS AFTER SHOPPING
EXCHANGE COINS FOR COUPONS
FLASH DEALS
Coins & Coupons – AliExpress.com 11.11. Global Shopping Festival 2019
Money Hop
Time period: 1 November 2019 00:00:00 PST until 9 November 2019 23:59:59 PST
During the Money Hop Period, Eligible Members may participate in the Money Hop Game by accessing the designated promotion page(s) on the AliExpress Platform ("Money Hop Portal") in order to receive:
A. AliExpress Select Coupons; and/or
B. Coins;
C. a chance to participate in either the Flip 'n' Win Game or the Coupon Rain Game; and/or
D. for Eligible Members who are Qualifying Members , an AliExpress Coupon with a value equal to his/her share of the USD 1,000,000 pool.
FREQUENTLY ASKED QUESTIONS ABOUT 11.11
When can I view discount prices?
Sale prices will be revealed 2 weeks before the sale date. You may also filter search results to show 11.11 deals only.
How do I prepare for 11.11?
Download the app, play games to get coupons and add items to cart in advance.
How can I be sure that I get the maximum discount?
Visit our site and mobile app before the sale, and join various games and social media activities to win AliExpress coupons.

The four phases of the Promotion Period are as below:
28-10-2019 – 31-10-2019 PST ("Phase One") – Warm-up. Discover Singles' Day
01-11-2019 – 05-11-2019 PST ("Phase Two") – Game Land. Map of The Most Popular Sellers on Aliexpress. Game On! Don't miss out on money that could be yours! For playing them and winning the users will get the coupons and bonuses which they will be able to redeem while buying goods during the Big Sale. Visit AliExpress.com on your computer between November 1-5 to play and win. Find even more games and surprises to win AliExpress Coupons, Select Coupons and Store Coupons! «Coupon rain». The same as it was last year, several times a day there will literally be a coupon rain on the website of the advertiser. The users will need to catch and activate the coupons to redeem them during checking our purchases.
06-11-2019 – 10-11-2019 PST ("Phase Three") – PRE-ORDER. During the annual event, AliExpress offers shoppers huge discounts, but many times only stocks a limited supply so items sell out fast or only offers the deal for a short time. Simply make a pre-payment to secure your order. Points for preliminarily adding products to the cart. The users will be able to exchange these points for the coupons — the more they buy, the less they pay. Buyer Top Choices. It will be a landing page with the most popular goods among the buyers depending on the regions (the most popular brands and goods which have been added to cart the most frequently). One more reason for a user to start adding products to the cart in advance — more chances not to see a notification "Ops, everything is sold out".
Nov 11 12:00 AM PT  – Nov 12 11:59 PM PT  ("Phase Four")  – The Big Sale day. YES, two days! SHOP NOW! Pay the remaining amount on 11.11.
The Latest Trends at the Lowest Prices.