Play Money Hop on AliExpress 11.11. Get your share of US $1,000,000. On AliExpress.com, you can play free games or mini-games and earn Coupons and coins.
Money Hop 2021
Download the AliExpress App
Play now
When campaign starts
The campaign will begin on Oct 28, 2021 (PST) and end on Nov 12, 2021 (PST).
You can participate in the "Money" game from Oct 28(PST) to Nov 10(PST) to accumulate points, and redeem rewards from Nov 11(PST) to Nov 12(PST).
How to participate in?
You need to log in to start the game, and you can get 2 free game opportunities every day – these 2 free times will refresh per day at 0 o'clock (PST).
When you enter the game for the first time, the user guides will be shown for you. After completing the test game, you can officially enter it. When the game starts, you just click the button to jump, if you land successfully, the step add 1.
If you jump on the merchant shop box, you can earn badges. Upon successfully collecting all Merchant Blocks, you will earn one AliExpress Coupon.
If you complete two free times on the day, you can complete 4 browsing tasks(including browsing products, browsing shops, browsing venues, browsing gameplay, etc.) to get additional times of playing the game. At most, you can get 20 additional times of playing the game every day.
Also you can as a team leader to invite 4 friends join to play double Mod, which means you can get 2 points for each successful jump.
What are the rewards?
Between Nov 11 and Nov 12, you can enter the Redeem page and exchange 100 Redeem points for $1 benefit (including AliExpress coupons, seller coupons, 0.01 freebies, and coins). All benefits are on a first come, first served basis.
How many steps could I get per day?
You can add up to 1000 points between each day. If you adds more than 1000 points on the day, the highest number of steps in a single game will be refreshed, but the points will not be included in the total points.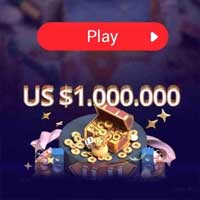 ---
HOW TO PLAY 2019
The information below on the page is out of date.

Welcome to Money Hop
Roll the dice
Move through the board to get big coupons and more
Complete the board to become a coupon millionaire!
The final prize of US $1,000,000 in AliExpress coupons will be divided equally among the number of winners who successfully complete the board 
RULES
1. By moving through the board or by participating in the mini games in each section, players can collect 3 different value AliExpress coupons: US $5, $10 and $15. Each player may win each value coupon only once during the entire gaming period. Players may also get up to 50% off with Store Coupons (subject to the game's terms and conditions).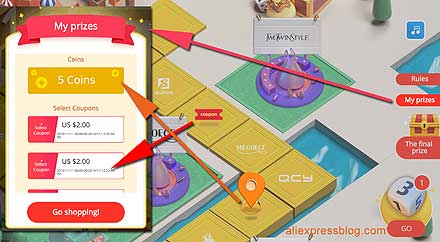 2. Each section of the board features its own special AliExpress coupon, and each section's coupon is of a higher value than the last section's. AliExpress Coupons and Store Coupons will be awarded on a first come, first served basis. Once all of these coupons have been claimed, players will still be able to get US $2 Select Coupons for the rest of the gaming period.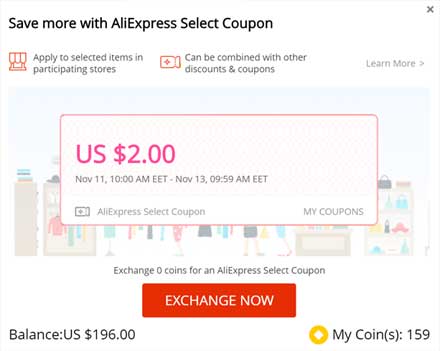 3. Players can only play Money Hop 3 times during the official game period. The final prize can only be received once.
Each player who reaches the end of the board can win 1 share of the final prize pool of US $1,000,000 in AliExpress Coupons, which will be divided equally among the number of players who successfully
complete the board.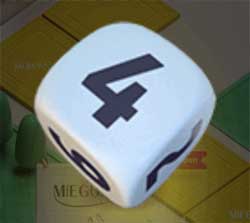 For example, if 80,000 players complete the game, your share of the prize pool will be US $1,000,000 divided by 80,000, which equates to US $12.50 in AliExpress Coupons. In this same example, your share of the prize in AliExpress Coupons can be used on any purchase over US $12.51 that you make between Nov 11-12, 2019 PT.
The results will be announced on Nov 10, 2019 6:00 PM PT. Please remember to come back and check the results in Coupon Center.
4. Money Hop will be available from Nov 1, 2019 12:00 AM PT to Nov 9, 2019 11:59 PM PT.
5. Money Hop is subject to the Official Rules of Money Hop, which you may check here.
6. Please be aware that access to the game may be revoked due to security reasons at AliExpress' discretion and as outlined in Article 7 of the Official Rules.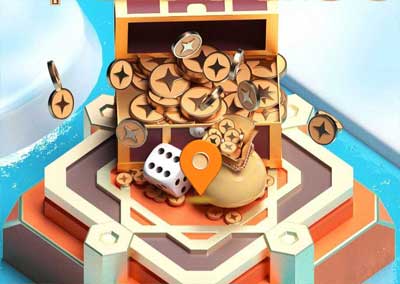 Free online Games on AliExpress.com
Play free Money Hop and receive cool rewards for free.