The truth about lost AliExpress packages being sold in Islamabad.
Why are AliExpress packages ending up at a bachat bazaar stall?
Social media user Talha Saleem posted a picture of a stall selling hundreds of sealed Ali Express parcels with the caption: "This is where your lost parcels end up."
This AliExpress stall is flooded with customers today apparently because of my post. Haha (a friend sent this image to me today) pic.twitter.com/nS7vte5KAb

— Talha Saleem (@TalhaaSaleem) September 16, 2018
A picture appeared on the internet recently showing misplaced AliExpress packages being sold at Sunday bazar in Islamabad.
Do you guys know where your aliexpress packages go when they don't reach you? They are in Sunday Bazar. A person is selling them for 200 Rupees. "Jo bhi nikla apki kismat".
Someone please shut down Pakistan Post! pic.twitter.com/sgqA6JR088

— Laraib Mehtab (@laraibmufc) September 15, 2018
The shop keeper was selling the packages Rs200 only and said that "whatever you find in the packages is yours". Items price varies according to their size.
Many curious and concerned residents visited the stall and saw that the parcels were in fact mailed to other countries.
Most of the packages have addresses from different countries like Poland, Hong Kong, Azerbaijan, France, Finland etc.
Saleem was contacted by an assistant superintendent of Pakistan Post who claimed that the matter had been investigated and the parcels did not belong to Pakistan Post, since they handle Pakistani addresses only. "Seems like these have been purchased from out of the country as refused articles and then imported as second hand material," he said.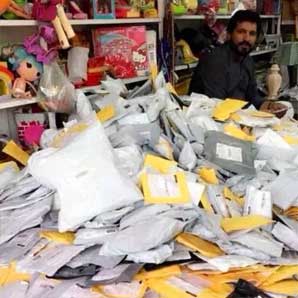 Reports MangoBaaz