Invite your friends and give them each US $24.00 in coupons. And for every friend who completes the first purchase, Aliexpress.com will give you a $ 5 coupon. AliExpress Invite Friends $24 / $5
Share your links and codes on this page!
AliExpress Invite Friends $24 / $5. How It Works
For every friend that successfully placed their first order, you'll get a US $5.00 coupon to help you save as you shop.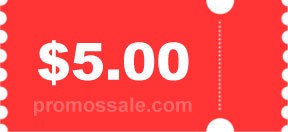 If your friends are new to AliExpress, they will get US $24.00 in coupons to get them started.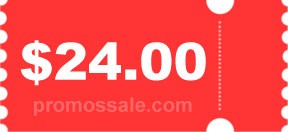 How to get free $ 24 coupons on Aliexpress?
If you haven't made purchases on Aliexpress, you need to download the app and register. Then just go to "Account" of the app and click the button "Redeem invite code".
New User Gifts. US $0.01 deals + coupon + special offer.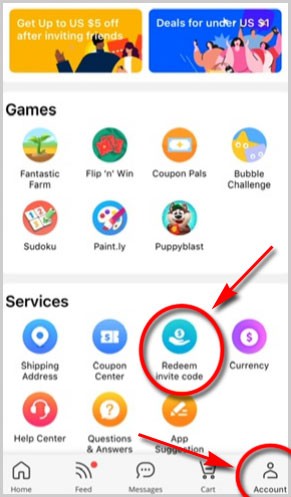 Enter invite code. Welcome to AliExpress! It's nice to see you! Enter invite code to claim US $24.00 in coupon.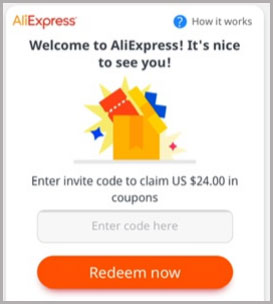 How to get free $ 5 coupons on Aliexpress by inviting friends?
Go to the Aliexpress app. Click on the big button "Get up to US $ 5 off after inviting friends".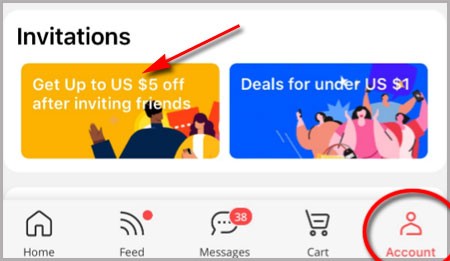 Share and give US $24.00 you'll get US $5.00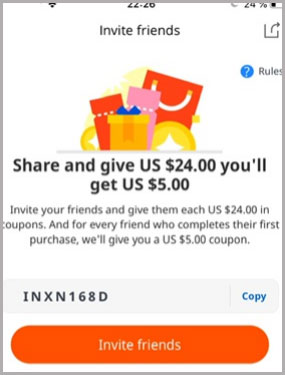 You can also use the Invite Friends page in your browser.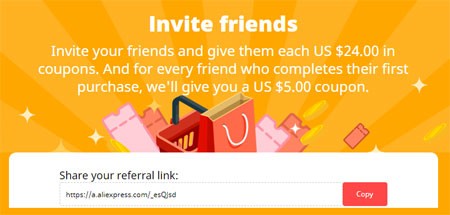 Invite a friend on AliExpress & get US $5 as a gift / How to Get Free Coupons.
Get $24 FREE Aliexpress coupons
Link: https://a.aliexpress.com/_eKFV8l Using this code will get you $ 24 in coupons when you register for the first time. You will receive coupons totally amounting to $ 24.
At the moment, you can get an EXTRA BONUS.

All your coupons are saved on your personal account on "My coupons" page. You can check the expiration date and other conditions on this page.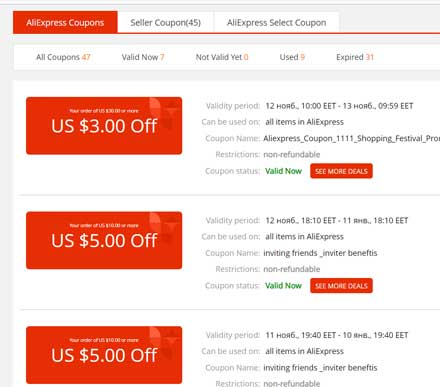 Invite Friends. Rules.
Invite your friends by giving them your invite link or code.
This program is limited to active AliExpress users and is subject to terms & conditions.
If your friend has never registered with AliExpress before, they are eligible to receive a set of new user coupons once they complete registration.
 You will also receive a coupon within 24 hours after your friend completes their first payment.
While there is a limit of 10 coupons per month that you can earn, there is no limit on the number of friends you can invite!
Even if your friend receives several codes or links from different users, they are limited to using 1 code or link only when they register.
Organizer:
Alibaba.com Singapore E-Commerce Private Limited, a Singaporean company.
Eligible Members:
Only registered members of the AliExpress.com platform can participate (https://www.aliexpress.com)
Campaign Rules:
You can only obtain up to 10 AliExpress.com Platform coupons in a calendar month in this Campaign;
Each computer or mobile device can only have up to 4 AliExpress.com Platform membership accounts to participate in this Campaign;
The Organizer reserves the right to disqualify any "same user" who tries to create different accounts to participate in this Campaign. The Organizer may use any metric, such as platform membership account, payment account, identity proof documents, recipient name, address, contact method, IP address, and etc., as appropriate to determine whether or not the accounts belong to the same user.
Any fraudulent act or abusive behaviors in connection with your participation in the Campaign by you (as determined by the Organizer at its discretion) will result in forfeiture of your eligibility (and the friends that invited) to receive any coupons, offers or prizes associated with the Campaign. The Organizer reserves the right to revoke and coupons issued, deduct the value of any offers or prizes awarded, inappropriately to you directly without prior notice.
The official company rules can be found HERE
How to get the invite code and free coupon on Aliexpress
What to Expect for AliExpress 11.11 2020?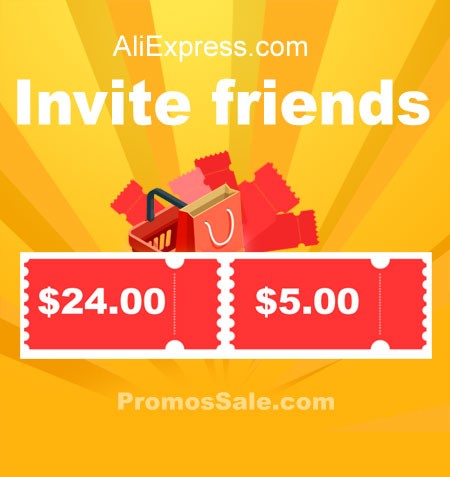 Earn money on Aliexpress! Make money! How to earn coupons on Aliexpress How to invite a friend to aliexpress. Promotion on Aliexpress – Invite a friend: conditions, coupon. How to register a friend on Aliexpress and get money?
sorry – this promotion is designed for new users!but… you can still invite your friends to join aliexpress, you'll get US $5 for each new user! Not bad, ah?