Mother Orders A Shirt From China For Her 3-Year-Old, Receives A Top With Inappropriate Text
Frequent online shoppers know that purchases don't always turn out as expected, but one Illinois woman was shocked to find the t-shirt she bought for her young daughter read "f— the police."
At first, she and her husband found it funny after discovering offensive language on their child's T-shirt. Posting about the ordeal generated thousands of likes, but some observers did not take the couple's laughter lightly. Instead, they targeted the young child.
Kelsey Dawn Williamson, 23, told BuzzFeed News she's profoundly confused and has not stopped laughing since she received the T-shirt order from AliExpress.
On May 10, Williamson placed an order for this shirt, which features an iconic image of classic children's book characters Frog and Toad, for her daughter Salem.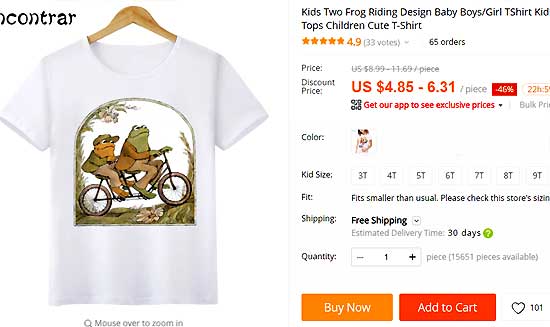 The shirt retails for about $5. AliExpress.com named the shirt — heavily loaded with search engine optimization terms — "Kids Two Frog Riding Design Baby Boys/Girl TShirt Kids Funny Short Sleeve Tops Children Cute T-Shirt."
"Salem probably has 50-plus different little boutique outfits from my favorite store on AliExpress," said Williamson.
So she did not expect anything unusual to arrive in the mail.
On Tuesday, however, she opened the package to find the Chinese retailer had taken liberty with 3-year-old Salem's new shirt by adding a slogan to it.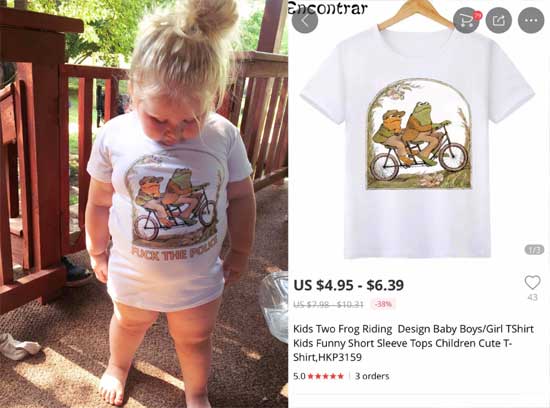 "I literally did not know how to react so I just took a few moments to stare at it and try to process," the parent told BuzzFeed. "Of all the things they could have added, why that? On a children's-size shirt?" she asked, referring to the illicit phrase, which is a lyric in a popular N.W.A. song from the 80s.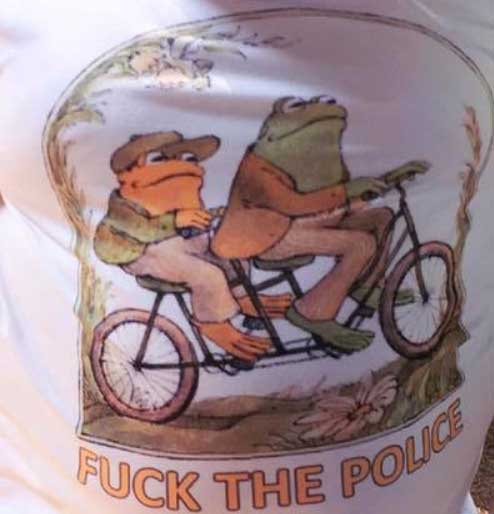 Calling her husband to share the news, the couple "lost it" with laughter and "just screamed together."
As Williamson couldn't help but laugh at the fashion fail, she also shared the story and photos of Salem in the top on her Facebook page, where it has since gone viral with over 62,000 likes and 30,000 shares – a consequence Williamson said she never would have predicted.
What I ordered VS what I received.

I f***ing love China. I cannot stop screaming. WHO DOES THIS.

Editing because I've seen some nasty attitudes: SALEM IS 3 AND CAN'T READ. 
I DID NOT BUY THIS. THIS IS WHAT I WAS SENT.
NO, SHE WONT WEAR IT IN PUBLIC.
"Why would you take a picture??" YOU WOULD TOO, DONT BE A LIAR.

Editing one more time: SHE SEES SPECIALISTS FOR HER WEIGHT. SHE CANT HELP IT. I CANT HELP IT. MY HUSBAND CANT HELP IT. IT IS OUT OF OUR CONTROL. JUST LAUGH AT THE FUNNY SHIRT.

T-shirt Frog police AliExpress