AliExpress x Naver Shopping joint sale
AliExpress x Naver Shopping joint sale.  Promo Codes August 2019.
Naver (Hangul: 네이버) is a Korean website that has it all – news, trends, information, shopping, games, etc. Naver, a search engine giant based in Bundang, Gyeonggi, that commands over 70 percent of the market share in Korea, has been gradually expanding into online commerce in the past couple of years.
Limited Special Discounts
NongHyup Card x VISA
Pay with NH card to get $25-4/$70-15 off
Pay with NH VISA card to get $25-5/$70-15 off
* Discount applies automatically when entering the card number.
Promo Codes
?❤️➡️  NaverAE2 $20-2
?❤️➡️  NaverAE4 $30-2
?❤️➡️  NaverAE6 $50-2
Naver Selection
QCY Korea Store
ZEUSLAP Official Store
MI Youpin Korea Store
Shustar Official Store
Korea
NH Bank 모든 카드로 $70 결제하면 $15 할인해드립니다
$ 25 결제하면 $ 4 할인해드립니다
NH Bank visa 카드로 $25 결제하면 $5 할인해드립니다
행사 기간 : 8.5-8.7 1
* 판매하고있는 모든 제품에 적용합니다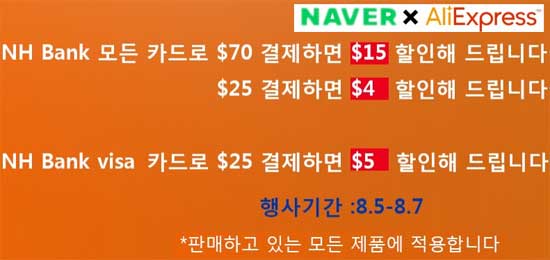 네이버
알리익스프레스 주소
알리익스프레스 배송기간
Buyer From Korea
Shop Korean products on aliexpres. Trusted AliExpress sellers shipping from Korea.