Teclast launches M40 Pro 2023 tablet with 16:10 aspect ratio display and 7000 mAh battery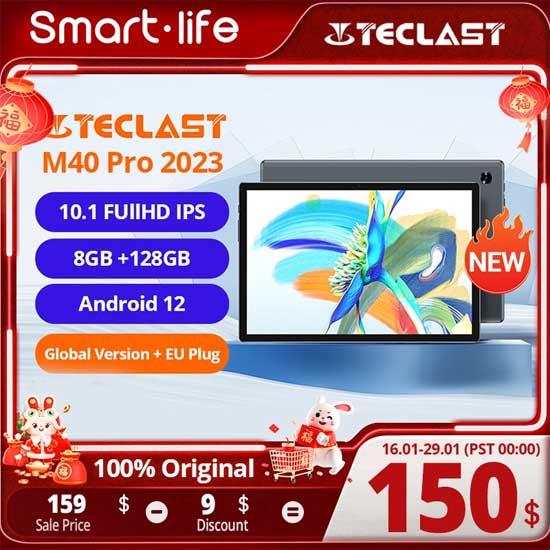 Teclast has launched the M40 Pro 2023 tablet, a 10.1-inch tablet running Android 12 in a unified color scheme.
Teclast M40 Pro 2023 inherits many of the features of its predecessor, including a 10.1-inch display with a resolution of 1920 x 1200 and a 16:10 aspect ratio, as well as a 7000 mAh battery that supports 8 hours of online video playback.
Teclast says the M40 Pro 2023 features a more powerful chip, more RAM, faster storage, and runs a newer version of Android than its predecessor.
Teclast M40 Pro 2023 is equipped with Android 12 system, uses UNISOC T616 (including Mali-G57 GPU), 8GB LPDDR4 memory and 128GB UFS 2.1 storage. In comparison, the previous generation M40 Pro came with Android 11, UNISOC T618, 6GB RAM and slower storage.
The UNISOC T616 is only slightly faster than the T618, so limited performance gains are expected.
The M40 Pro 2023 features a thin and light metal body paired with a 2.5D touchpad and curved edges. Designed with stereo speakers. LTE network support with 4G dual SIM, 8MP rear camera, 5MP front camera.
M40 Pro 2023 goes all out with 8GB LPDDR4 RAM to provide a magical experience of smooth multitasking and faster app switching. Unisoc T616 also supports faster read and writes with UFS2.1 storage, allowing you to in- stall apps, load games in a breeze
Momentum System II / 4 Stereo Speakers
Android 12 / App Permissions
Full Metal Body / Smart Sensor
7000mAh Li-Polymer / Type-C Charging
UNISOC T616 Octa Core
8GB RAM 128GB ROM
10.1 FullHD IPS / 1920 X 1200
4G Network / Dual SIM
Dual band WI-FI / BT 5.0
8MP Rear/5MP Front / 5-mode Navigation
This configuration to date allows you to run even the most demanding games on average graphics settings, PUBG is comfortably played on high, wot at maximum.
8GB of LPDDR4 RAM and 128GB of UFS2.1 storage let you store all your games, photos and videos. Expand with a Micro SD card for even more storage space.
The high-capacity 7000mAh battery with Android 12 battery optimisation ensures an 8-hour battery life when playing online videos.
Promising review: "Fast delivery in 20 days, according to the description, it's my third tablet teclast, thank you to the seller"