Here is a step-by-step guide how to create an account on AliExpress
This article will show you how to create a new AliExpress account. You can register a new account on the AliExpress web page in your desktop internet browser, or use the mobile app on your Android, iPhone or iPad.
What is AliExpress?
AliExpress is a global marketplace for shoppers around the world, somewhat similar to Amazon, where you can buy products directly from manufacturers and distributors in China and other countries. The site offers a variety of products: cosmetics, clothing, footwear, household goods, sports and fitness products, industrial products, telephones and gadgets. The goods are delivered quickly. AliExpress is safe because the site has a Buyer Protection program.
ENJOY SPECIAL PRICES & GET COUPONS – Newcomer-Exclusive Offers
Creating an account at AliExpress.com is quick and easy. Registering on AliExpress gives you countless opportunities to buy products at the lowest prices with free shipping.
If this sounds interesting, then read on!
How to create an account on AliExpress
Step by step guide
Method 1. Using a Browser
Step 1: Visit the AliExpress homepage. To get to the main AliExpress website, type https://aliexpress.com into your browser's navigation bar or search "AliExpress" on a search engine.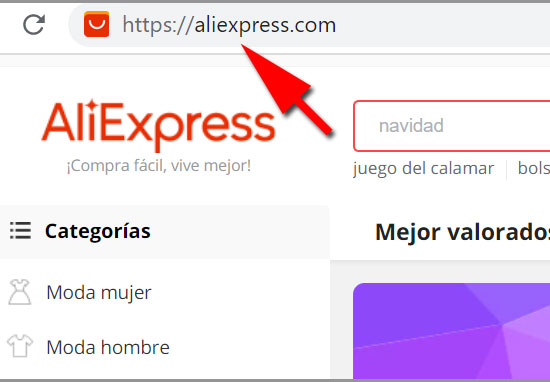 Step 2: Click on the "Register" link. In the upper right corner of the AliExpress main home page, you should see the text "Account". Click on "Account" and select "Join" to begin the account set-up process.
Without an account, you can still view products for sale on AliExpress, but you will be prompted to create an account if you try to buy anything.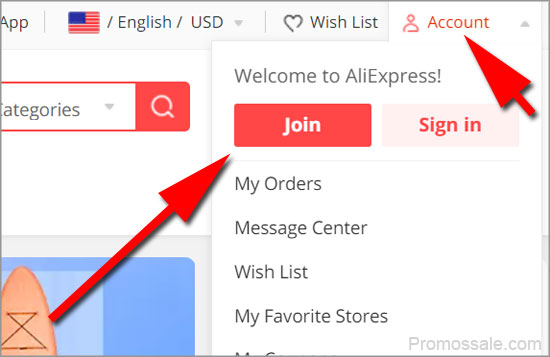 Step 3: Enter your contact information on the next screen. On the registration page, you will be asked to provide an email address and password for your account.
Click CREATE AN ACCOUNT
You can register using existing social media profiles: Google, Facebook, Twitter or Apple.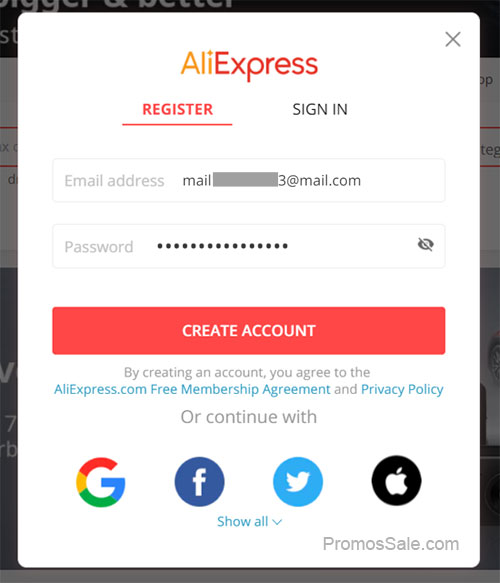 By creating an account, you agree to the AliExpress.com Free Membership Agreement and Privacy Policy
Or continue with Google, Facebook, Twitter or Apple.
Step 4: Verify Your Email for a New Account.
After registration, you must go to the section "Account"> "Settings"> "Personal information" and click on "Edit profile".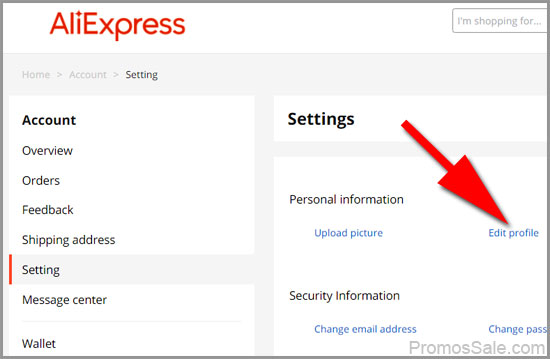 Click the EDIT button. It will open a new window.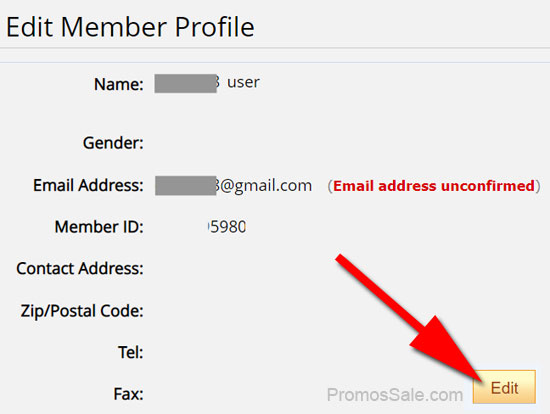 Confirm your email address on AliExpress and fill in all the required information.
Click the SUBMIT button.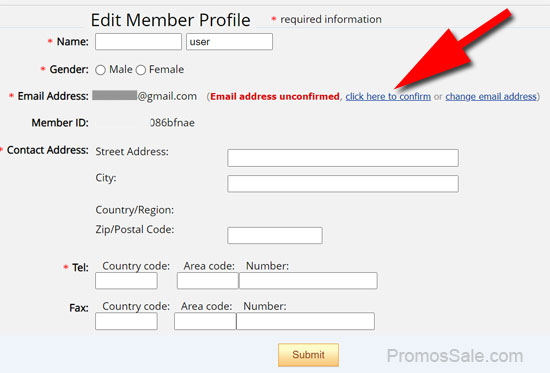 To confirm your email, click or tap the link in the email you got when you created the account.
You will receive an email from AliExpress with an official "Welcome" message at the email account you provided.
Note: If you don't receive our verification email, do the following:
Confirm that you entered your email address correctly.
Check if the email is in your spam or junk folder.
Step 5: After registration, go to the section "My Account" and then to the section "Shipping Address" and fill in the contact information: name and surname, phone number, address.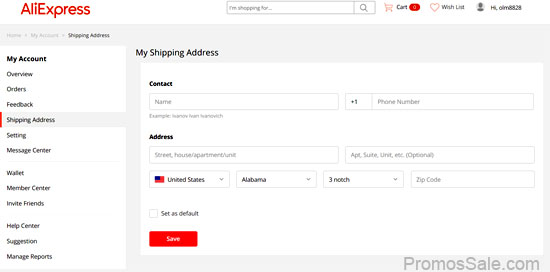 Step 6: Good news – new users on Aliexpress receive gifts.
Exclusive Benefits For Newcomers. New User Gifts – Choose one!
coupons for the purchase of goods at very low prices.
goods for $ 0.01
exclusive prices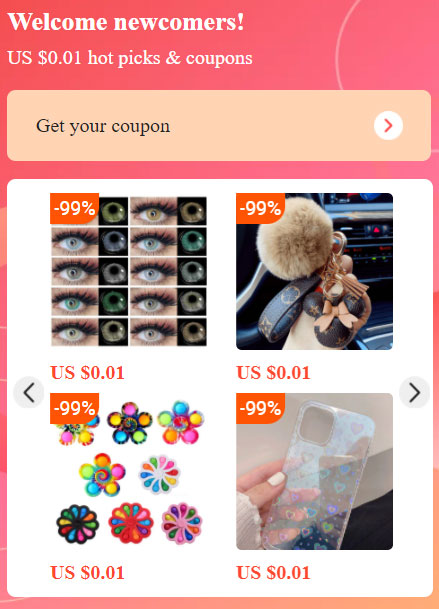 Welcome newcomers! US $0.01 hot picks & coupons. Get your coupon
Method 2. Register On AliExpress Using the Mobile App
Step 1: The first thing you'll need to do to create an AliExpress account is to install the AliExpress application on your cell phone.
Open the AliExpress App on your iPhone, iPad or Android.

Step 2: Tap the "Sign in" button in the lower right corner of the screen. This will open a new application login screen.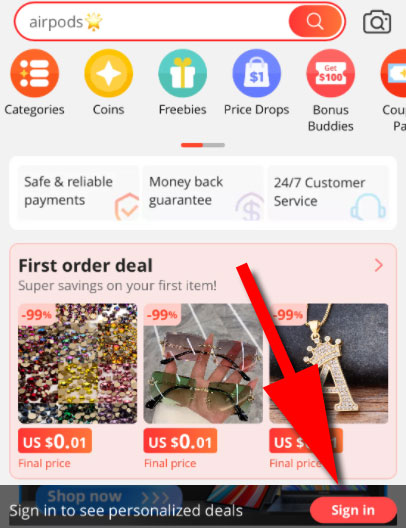 Step 3: At the bottom of the screen, look for "No account? Register". Click or tap the "Register" link. This will open the sign-up form on a new page.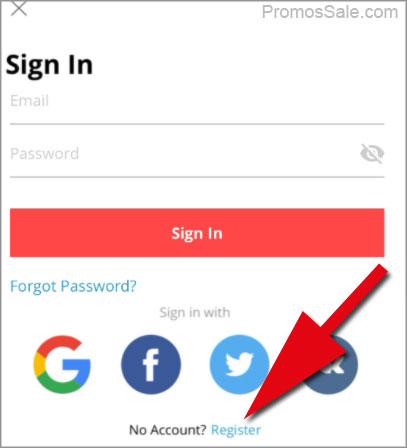 Step 4: The AliExpress app will automatically detect your country. But you can choose the country yourself.
Enter your email and password.
You can also register using social networks.
Click or tap AGREE & CREATE ACCOUNT to finish the sign up process.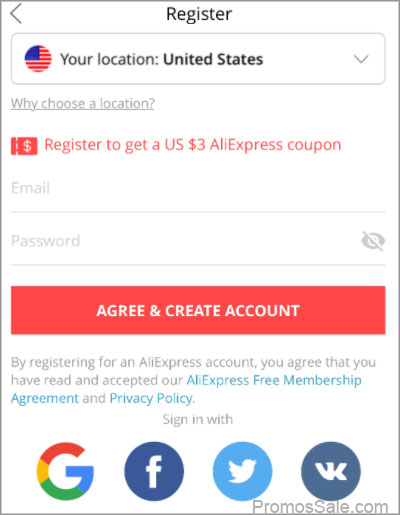 By registering for an AliExpress account, you agree that you have read and accepted the AliExpress Free Membership Agreement and Privacy Policy.
Step 5: To finish creating your account, you need to confirm your email.
Click on the gear in the upper right corner of the screen.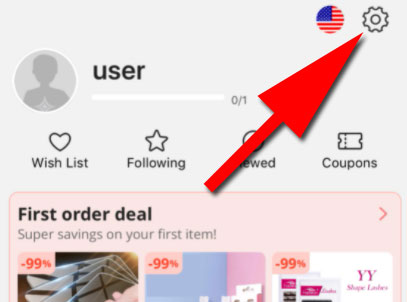 Go to the "Settings" section. Next, click on Profile> Account Info> Email address and request confirmation mail. Check your mailbox and confirm registration on AliExpress.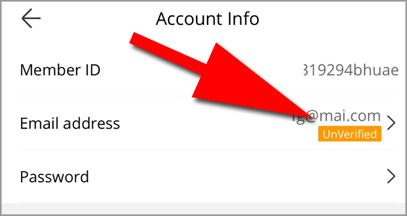 Coupon Rules for New Users of AliExpress
By definition, New Users are individuals who have never placed an order on AliExpress.com.
There is a limit of one New User Coupon per each new user.
To use the New User Coupon, the order amount must exceed the required purchase minimum listed for the coupon.
The New User Coupon has a set period of validity. Please refer to your individual New User Coupon to check its expiry date.
The New User Coupon can be used on both the AliExpress PC site and mobile app.
The New User Coupon is valid for your first order only, and it cannot be used on later orders, even if your first order is cancelled.
New users may choose to benefit from either the New User Coupon or the US $0.01 gift deal, but they cannot choose both.
The New User Coupon offer may be invalidated for accounts that have been flagged for suspicious activity or rule violations.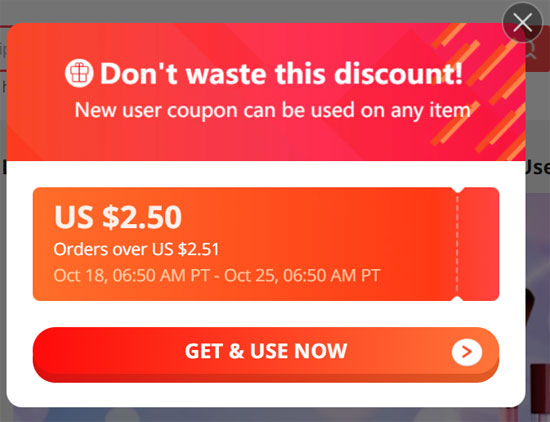 And that's it!
Enjoy the shopping!
Is AliExpress free to join?
Joining on AliExpress is free.
AliExpress is a free website that requires registration to use.
But there are restrictions for users from India. AliExpress does not ship to India.
Buyers from other countries can receive parcels quickly. Delivery usually takes up to two weeks.
Do I need to create an account to shop on AliExpress?
Yes, in order to make secure purchases on Aliexpress, you need to register. You will receive benefits such as order tracking, regular newsletters, exclusive discounts/promotions and special offers.
Join AliExpress now, or you can start shopping straight away.
How to Create a AliExpress Account How do I create an aliexpress account? How to register on AliExpress How to make an AliExpress account? How to Create a New Aliexpress Account Step by Step How to open a buyer's account on AliExpress? How to Set up an Ali Express Account
How do I join Aliexpres for the first time? Sign up for an AE account. Join AliExpress. Personal account. login. How to Sign up for AliExpress as a Customer.
How can a new user register on a website or mobile application? How can I register on Aliexpress to work with dropshipping? We recommend registering on the Chinese website and buying products at the lowest prices. Benefits of Aliexpress Millions of products and constant sales. On big sales, you can save as much as possible. For example, the biggest sale is Double Eleven, where discounts can be over 80%.
Is AliExpress free to join? Of course! Registration on Aliexpress is free and fast. Create a free account and enjoy shopping for quality and inexpensive goods from China with free shipping.