What does it mean when I see the following message on the Aliexpress page: "OOPS! There are a lot of people trying to purchase at the same time. You are currently in line to visit. Please wait and then try again. Try Again"?
These words mean that a lot of people are browsing the page and the server or network is under heavy load.
Simultaneous requests from a large number of clients prevent the page from loading in normal mode. Therefore, customers see a warning page.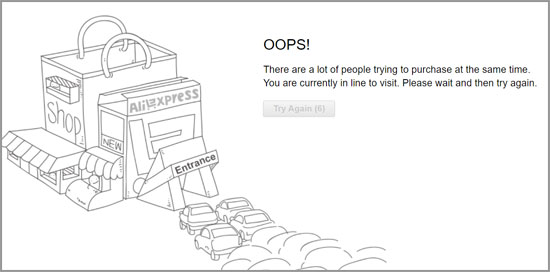 How To Fix "This Webpage Is Not Available" Error on Aliexpress.
This webpage is not available is one of the most irritating errors on Aliexpress that some shoppers have encountered.
To fix this error you need to wait a few seconds. Wait for the inactive gray "Try Again" button to turn orange. Then click on the orange "Try Again" button. The page will reload and you will be able to continue choosing products and making purchases.
Enjoy the shopping!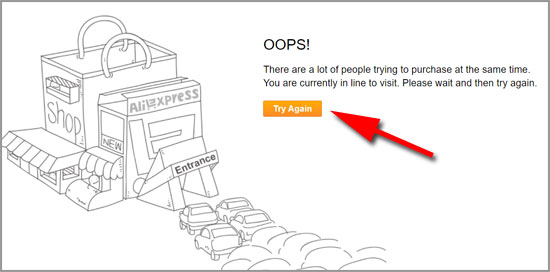 How do I fix the error?
Aliexpress is Temporarily Down – At times when Aliexpress servers are down and they cannot handle your requests, you get to see this message: "OOPS! There are a lot of people trying to purchase at the same time. You are currently in line to visit. Please wait and then try again."
Aliexpress / Alibaba has a large team of programmers and powerful servers. Therefore, the error will be corrected within a few seconds.
Besides, you can try to open the requested webpage from another device.
Why is Aliexpress unavailable right now? Many people try to buy, but there is no access to the Aliexpress website. Item and shop not available/