Alibaba Year End Sale 2020. Discount products with 7-Day Dispatch. Offers from 20% off. Under $10 deals.
Post-Holiday Sales and Deals – find low prices on holiday clearance, overstocks, and markdowns during this year-end event
The Alibaba Year End Sale will be held from 2nd of December till 15th of December 2020.
Do you love shopping on Aliexpress? Are you in business? Do you need a lot of gifts? Then try shopping on Alibaba. Please note that there is a minimum order quantity on the product page. The more you buy, the cheaper the cost will be. You can use the same account as on Aliexpress.
Alibaba Year End Sale – Discount products with 7-Day Dispatch
7-Day Dispatch
Products displaying the "7-Day Dispatch" logo will be shipped from the supplier within 7 days after order payment. Buyers are required to place direct orders online using either credit/debit card, TT or Apple Pay.
Alibaba Year End Sale. Limited-time Discounts
Holiday sale: November 18 – December 17, 2020 (PST)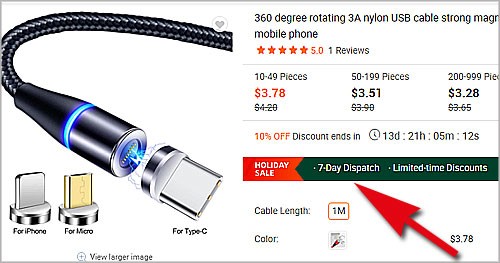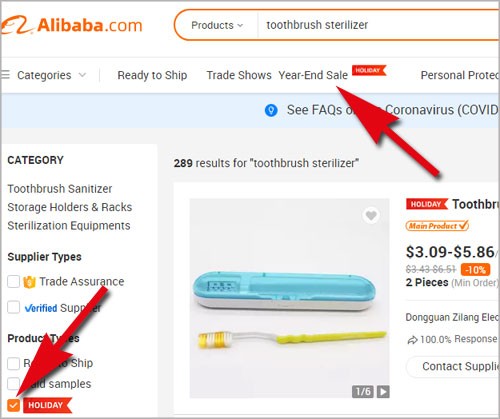 Notice for "7-day dispatch" Promotion:
During November 18 – December, 17 2020 (PST) ("Promotion Period"), buyers must place a "Direct Order" (i.e. you need to press "start order" on the designated webpage for this Promotion on the Alibaba.com Website) for products displaying the "7-day dispatch" logo ("Products").
You must have successfully completed payment for the Product(s) during the Promotion Period using the following acceptable payment methods: credit card, debit card, wire transfer or Apple Pay.
The purchased Product(s) must not be sample products.
The supplier must have failed to dispatch the Product(s) to you within the agreed period.
You must not cancel the order in order to obtain the Refund.
You must not change or amend the delivery address for the receipt of the Product(s) after completing payment.
Eligible participant: To participate in this Promotion, you must be a registered member with a valid buyer account on the Alibaba.com Website ("Buyer").
The Buyer must not cancel the order of Product(s) (i.e. the Buyer shall still want the Product(s) to be dispatched even if the dispatch date is after the agreed period);