Why do Aliexpress sellers offer discounts? What are the Types of Sales Discounts? Are AliExpress discounts real?
On Aliexpress, which hosts millions of products, it's crucial for store owners to be able to stand out among a sea of competitors.
Aliexpress allows sellers to offer exclusive discounts. In addition to being able to use this feature all year round, sellers can take advantage of this feature to engage buyers during major shopping events.
Why do Aliexpress sellers offer discounts?
What marketing strategies do Aliexpress sellers use to promote their stores? Why is AliExpress prices low? Why do sellers offer discounts?
The prices of goods on AliExpress,com are not stable. Pricing for each product is based on a number of factors, including the nature and seasonality of the merchandise, logistics, exchange rates, country customs regulations, warehouse location, seller discounts, and customer response. Some items rarely go on sale prior to final clearance; others go on sale more frequently as part of promotional events.
1. Limited Time Offer
A). The discount applies to new products or products with a large stock.
What the seller offers: a big discount, even at a loss to the seller.
The loss for the seller is not very big. This promotion method is used to explode the store's popularity and further increase store sales in the long term.
This salesperson activity aims to increase and accumulate sales and prepare for big sales at a later stage.
B) Big discounts on hot products, promotion of related products and at the same time a complete reduction in the quantity of goods in the warehouse.
In this case, the discount is medium or small, since hot products have a large volume of sales, a small discount may attract buyers to place orders.
Why is the seller doing such a discount on their store on AliExpress?
The seller attracts traffic, accumulates customers, and increases the number of followers.
Sales of hot products are high and the store's rating is increasing.
Using hot products to redirect traffic to related products can help increase the number of items in the store.
Result: the seller is happy with his store.
C) Discounts on products for seasonal sale
Discounts are high, even with losing sales.
Seasonal products have already generated sufficient profits in the previous quarter, and stocks in the warehouse remain large. It's not as good as a low price to recoup some of the costs.
The goal of the seller is to sell and reduce inventory and recover costs. Reducing the volume of surplus products and old goods out of circulation.
2. Promotional code or coupon giveaways:
The seller sends notifications to his existing customers to pick up the coupons in the store.
Flash sales and discounts. In conjunction with other AliExpress promotions, the seller uses time-limited discounts on certain items. The seller attracts buyers to the product page and encourages them to buy immediately.

3. Product Discounts
A. Permanent discounts in AliExpress stores are not uncommon. These discounts can exist for a very long time to encourage customers to buy more. The buyer sees "Related Products" and buys more items.
B. "Limited Time Discount".
Used by sellers on AliExpress to encourage buyers to buy more.
4. Promo "Discounts for all AliExpress stores".
a). During AliExpress's big sales, sellers use this time to drive traffic and improve the competitiveness of their stores.
b) Many new products have appeared on the market. During changing seasons, in-store discounts can increase sales of new products and eliminate out-of-season products.
Aliexpress Seller Promo Codes
Aliexpress Sale Dates 2021 | Shopping Events Calendar
AliExpress Coupons, Promo Codes and Deals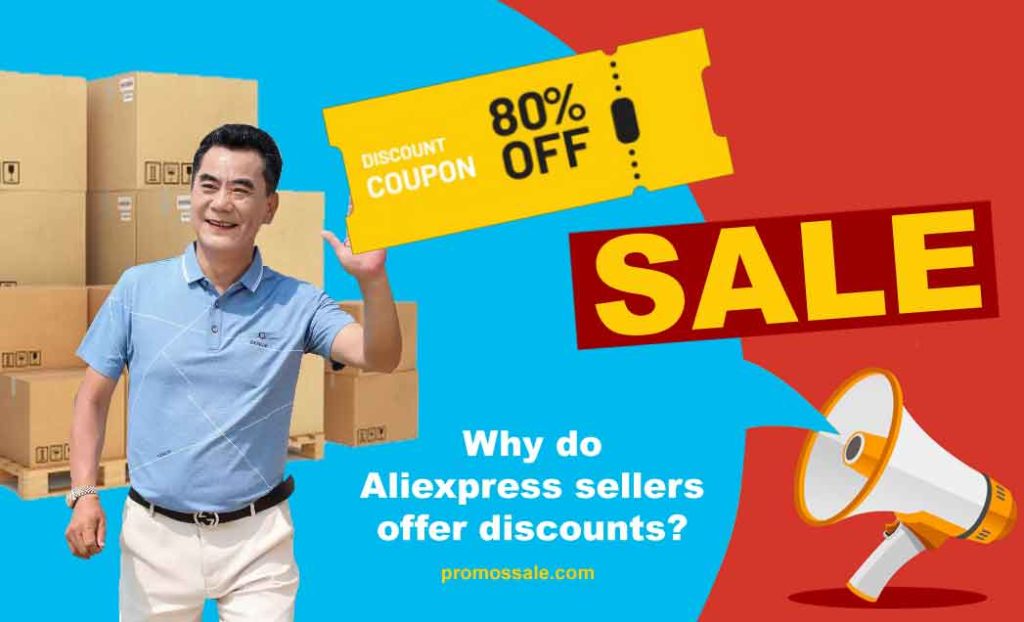 Why do stores always have sales?
Sales promotion examples
Is that "sale" price really a special, reduced price? This question worries many buyers. Therefore, the average user wants to figure out whether to buy the product now or buy later. There is really no exact answer. It is best to use discounts, coupons and promotional codes. Then you can get good prices.
'Fake' Sales Trick Customers at Stores
"Discounted" price is really the regular price. It is a common practice for Chinese sellers to promote goods.This is not unusual.You can always compare the price of a product with sellers in other stores. Most likely, other sellers will have the same situation. The product will also be on sale at a discount. Discounts for existing customers.
Why do stores give discounts? Discount Provided by AliExpress.
Sellers on Aliexpress.com can set and control prices on their products.
always-on-sale. The Aliexpress marketplace does not require sellers to reduce prices and regular discounts.
Fake discounting' for years. Lots of sellers that continually mark down the listed price on products.,
Value and benefit to the customer. The buyer receives the goods at a favorable price. Store Coupons. Aliexpress Marketing Hacks Chinese sellers' promotion strategies you can take note of. Discounts are beneficial for dropshipping