AliExpress recently announced that it will begin tightening EU packaging label compliance controls in mid-to-late October 2023. This is to ensure that products sold on AliExpress meet EU safety and compliance requirements.
The following industries must comply with EU outer packaging label compliance requirements:
Construction materials and consumables
Personal protective equipment
Gas equipment
Outdoor equipment with noise requirements
Mechanical equipment
Toys
Energy saving related products
Electrical and electronic products with restrictions on the use of hazardous substances
Recreational yachts and personal boats
Simple pressure vessels
Products covered by the Electromagnetic Compatibility (EMC) Directive
Non-automatic weighing equipment
Measuring equipment
Explosion-proof products
Products covered by the Low Voltage Directive (LVD)
Products covered by the Wireless Equipment Directive (RED)
Unmanned aerial vehicles
Pressure equipment
Construction elevators
Construction of manned cable cars
Use of gaseous and particulate emission equipment
Fertilizer products
Equipment related to the traffic control system
Products related to chemicals
AliExpress EU Packaging
To comply with the new requirements, sellers must provide and post complete product information on their store pages. The outer packaging label must contain complete information about the product, including, but not limited to, product information, manufacturer and address, applicable conditions (if any), warning labels (if any), special substances (eg "Yes"), etc.; the information on the label must correspond to the relevant qualification information; the information on the outer packaging label must be complete in English or the official language of the destination country so that it can be understood by overseas consumers; the relevant information must be printed on the outer packaging material of the product and must be legible and not easily damaged; the outer packaging label must bear the appropriate qualification mark (if the product has relevant qualification requirements such as CE mark, food contact mark, etc.).
Here is an example of a label (for reference only):
Image source: AliExpress.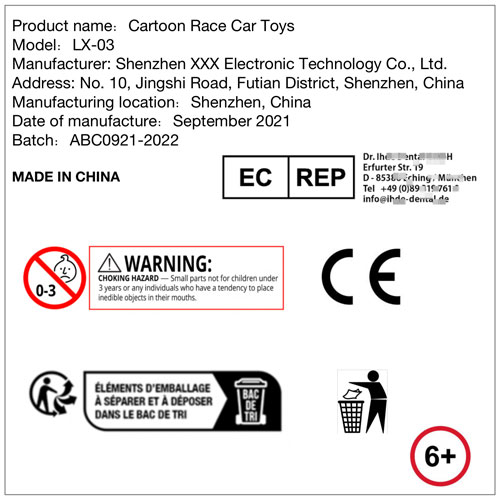 Electric Toothbrush/ Here is an example of a label (for reference only):
Product name: Electric Toothbrush
Manufacturer: Shenzhen XYZ Technology Co., Ltd.
Address: 123 Main Street, Shenzhen, China
Applicable conditions: Not for children under 3 years old
Warning labels: Keep out of reach of children
Special substances: None
Qualification mark: CE
What does this mean for buyers?
Buyers can be confident that products sold on AliExpress that comply with the new EU packaging label requirements meet EU safety and compliance standards. This is good news for consumers, as it helps to ensure that they are buying safe and reliable products.
AliExpress Big Sale 11.11 in November 2023