Spend and save – AliExpress. The "Buy and Save" promotion takes place on Aliexpress from time to time.
WINTER SALE – SPEND & SAVE JANUARY 2022
What is Spend & Save?
Spend & Save is a limited-time promotion that will help you save more money and shop more on AliExpress. The promotion applies only to selected items from selected participating stores.
Discounts, coupons and promotional codes may be applied to all products participating in the Spend & Save promotion.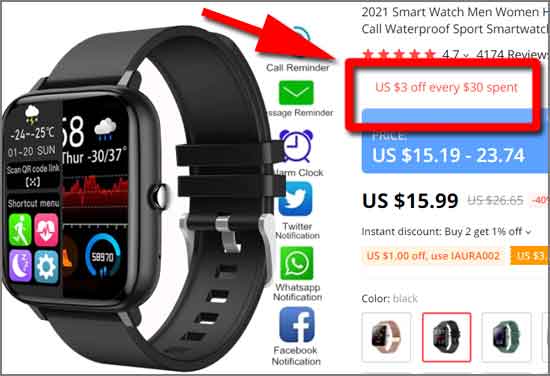 All participating items are marked by a "US $3 off every US $30 spent, €2,5 off every €25 spent, ₽220 off every ₽2200 spent" or a "Spend & Save" label in the item details page, cart, etc.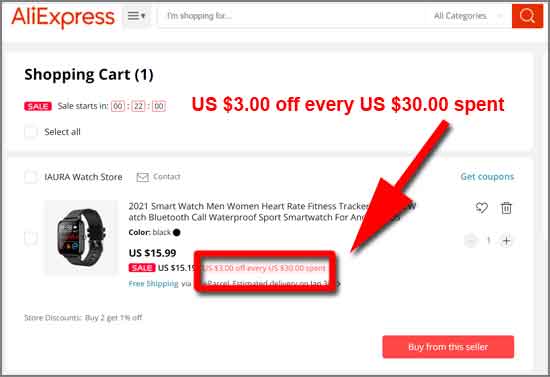 It can be used along with other discounts and coupons
Spend & Save. How does it work?
Check for products that have "US $3 off every US $30 spent, €2,5 off every €25 spent, ₽220 off every ₽2200 spent" mentioned on the product page
Add these product(s) to your cart. In case you need to shop more to be eligible to avail the offer, you will see a notification in your cart. Note: The minimum spending amount is the product (s) cost and does not include the shipping cost, tax, or any other additional costs.
When you're ready to pay, the discount will be automatically applied to the order. Simple and easy!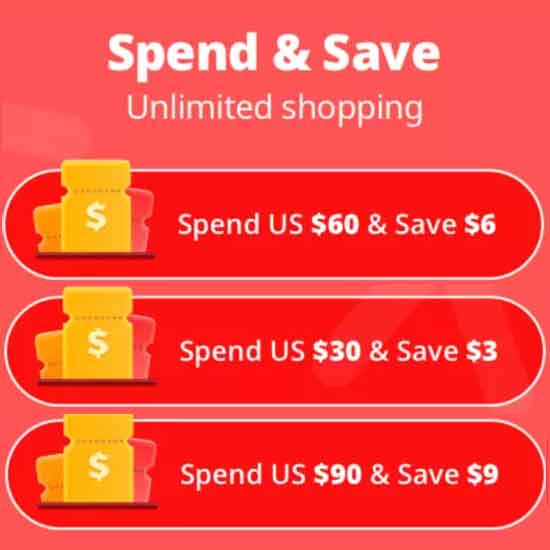 "Spend & Save" Rules
All products that are participating in Spend & Save have "US $3 off every US $30 spent, €2,5 off every €25 spent, ₽220 off every ₽2200 spent" mentioned in the product description section.
Spend & Save is mainly active in 3 currencies with the starting minimum value of US $3 off every US $30 spent, €2,5 off every €25 spent, ₽220 off every ₽2200 spent. Buyers from Countries that do not have Rubles or euros use USD as currency conversions in the real-time exchange rates. Therefore apart from these 3 base currencies, the minimum spent on product prices might slightly change for other countries.
Eligible Member may combine purchases of designated products from different shops and/or sellers to reach the minimum spending requirement provided that the threshold of the minimum spending requirement.
Other fees and expenses such as shipping, postage and tax will not be counted towards the minimum spending requirement amount.
If the minimum spending requirement is met, the Instant Discount will be applied automatically by the system at check out.
Spend & Save offer's minimum purchase amount is US $30 to avail the offer but there is no maximum purchase limit. The more you shop the more you save.
For example: Spend US $30 save US $3, spend US $60 svae US $6,and so on.
If an Eligible Member returns or requests a refund on products purchased which Instant Discount(s) is applied, whether or not the Instant Discount is applied as a result of combined orders of more than one designated product, only the actual amount paid by the Eligible Member will be refunded.
The types and amounts of Instant Discounts an Eligible Member may enjoy are determined by the currency of the Eligible Member's order settlement. The value of the Instant Discount and/or other information displayed in the Promotion is calculated and shown on the basis of Euro, US dollars or Rubles and may be converted to local currency depending on the Eligible Member's location, the "ship to", "currency" and/or "language" setting of his/her AliExpress account or App, which may cause small denomination differences affected by different time zones and conversion of exchange rate.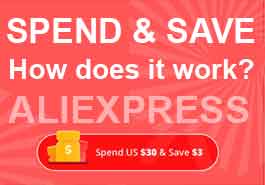 Spend & Save – AliExpress. Buy More & Save More. Get a discount for your order!
Spend & Save user guide. Select items: US $3 off on orders $30+